Replacement Umbrella Canopy -279
Made In The Shade Umbrellas by Galtech International
Replacement Umbrella Canopy for the 8 ft x 11 ft umbrella model number 279. Several canopy colors are available in Suncrylic or Sunbrella fabrics.
Note: This is a non-returnable and non-refundable item. Availability is limited by current stock as primary model has been discontinued.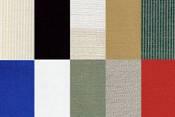 More Umbrella Canopy Colors
Click image to View
Features of Replacement Umbrella Canopy -279
Replacement Canopy for Galtech model 279 umbrella
Available in the standard Suncrylic fabric or choose the optional SunBrella fabric for just a bit more.
3 Year Warranty on SunBrella Fabric Canopies.


This item has been discontinued. We apologize for any inconvenience.
Last Updated: 07/22/2019 11:45 PM - ID:4493