Sunbrella Custom Shade Sails
Provides Near 100% Waterproof Protection and 95-98% UV Protection from the Sun
We offer Custom Sunbrella Shade Sails to fit almost any size and shape in several colors. Also known as Sun Sails, shade sails make beautiful additions to your patio, backyard, or other outdoor areas, and they provide excellent protection from sun and its harmful UV radiation. It is the perfect shading alternative instead of a traditional pergola or covered porch. Flying, colorful and curvaceous, shade sails make an attractive addition to any property, and with the right design can enhance the existing property with architectural and artistic flair and style.
Our Sunbrella Shade Sails feature Marine Grade Sunbrella Awning breathable fabric to keep you cooler and more comfortable in hot weather. This state of the art material provides a UV protection factor of up to 98% and is unaffected by moisture and natural temperature extremes. Sunbrella fabric is a solution dyed acrylic that is fade and water resistant. The near waterproof fabric also resists stains, mildew, and rot. The perimeter of each sail contains seatbelt type webbing for increased strength and durability. Each corner has a welded, solid, marine grade, stainless steel attachment ring to aid in attaching to a structurally sound fixing point. Sunbrella warrants its fabric with a limited 10 year warranty. Thread, webbing, and D-Rings have a 2 year warranty.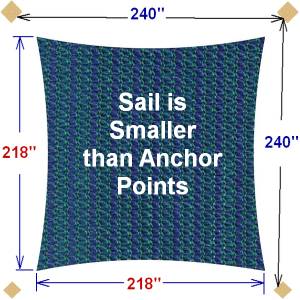 240in represents the
Anchor Point Dimensions
218in would be the smaller
Shade Sail Dimensions
All custom shade sails are designed with a reduction of approximately 10% of your attachment point measurements in many cases. This is done to allow enough space for the mounting hardware, fabric stretch, and to tension the sail. All final shade sail measurements will be approximate due to tolerances during the fabricating process. Due to the limited available Sunbrella fabric widths, there will be seams approximately every 40-57 inches.
The perimeter of each sail is designed with a gentle curve inwards towards the center of the sail to control fabric tension. This inward curve will have a maximum depth, or gore, of approximately 6-10% of the length of that side of the shade sail. Therefore, when tension is placed on the shade sail, the fabric will not wrinkle. Shade sails, when installed properly, do not sag or flap in the wind.
CAUTION: If the area you wish to shade is much longer on one side and not very wide on the other, the inward curve could protrude far enough into the sails shape to make long/skinny Rectangles with very little shade area in the middle, or with Triangles it will made the long corner into a skinny strap, possibly making it useless for shade, but could be an interesting decorative/design feature. So please be careful when designing your shade sails.
Note: Sunbrella material is water resistant, it must be mounted at an angle of at least 20 degrees to allow water run off.
Determining the amount of Slope/Angle for your Sunbrella Shade Sail
Sunbrella fabric is water resistant, and Shade Sails made from this fabric have to be installed with at least a 20 degree slope to allow water to run off and not pool on top. Below is a simple equation and example to determine the amount of vertical drop from one attachment point of the sail to the opposite attachment point of the sail to allow water run off. A 20 degree slope can be estimated - if one corner is attached and you walk to another corner, then the sail must change height 3.6ft every 10ft you walk.
If you have a shade sail that is a 15 foot square the amount of angle/slope will be 5 feet 5 inches. You can determine this slope amount by using the equation: Sail Length x .36 = Amount of Slope

15 Feet x .36 = 5.25 Feet which is about 5 Feet 3 Inches.

Therefore it is best to attach two points of your sail 5 Feet 3 Inches lower than the two higher points to allow water run off.


Sunbrella Shade Sail Perimeters & Pricing

Residential Sail Corner with 1.5 inch webbing.
Used for normal residential use in sails up to about 325 square feet. 1-1/2 inch webbing is rated at an 1,800 pound break strength.

Starting at Just $4.40 per square foot.
Heavy Residential/Light Commercial
Sail with 2 inch UV inhibitive reinforcement webbing. Used for smaller commercial applications and for larger residential use in sails from 325 to 500 square feet. 2 inch webbing is rated at a 5,500 pound break strength.

Starting at Just $4.95 per square foot.
Light Commercial Sail with 1/8 inch steel cable reinforcement.
Used for smaller commercial applications where a steel cable is required or for residential use. For use in sails up to 325 square feet. 1/8 inch cable has a 400 pound work load strength and a 2,000 pound break strength.

Starting at Just $5.45 per square foot.
Commercial Sail with 1/4 inch steel cable reinforcement.
Used for larger commercial applications where a steel cable is required or for larger residential sails. For use in sails 325 square feet or larger. 1/4 inch cable has a 1,400 pound work load and a 6,000 pound break strength.

Starting at Just $6.00 per square foot.
Note: Some shade sail shapes and sails with additional corners will have additional costs. There is also a 50 square foot minimum charge for custom shade sails. We strive to offer custom made shade sails at an economical price. In order to offer our custom sails at these prices, they are not engineered to the stringent specifications you may find on a sail costing twice as much. You may find that a length of steel cable or chain is needed to reach the attachment points when installing your shade sail.
Right angle triangle shade sails with short edges less than 1/2 the length of the longest edge are not recommended because you end up with a very thin shade sail.
Below are the fabric color choices for our Sunbrella Custom Shade Sails.
Mounting hardware is NOT included with the sail. They are available at the bottom of this page.
To receive a quote for your Custom Shade Sail, please click on the Custom Shade Sail Quote Form, print and fill it out. Then either fax it to 901-531-8145 or scan/take a picture with your smartphone and email it to us. It will take approximately 1-2 business days to process and quote the shade sail you need.
>All custom shade sails are made to your specifications. Therefore, all sales are final. No refunds or returns can, or will, be accepted.
Starting at $220.00
Starting at $220.00
Starting at $242.00
Starting at $242.00
Price: $43.99
Sale Price: $34.95
Price: $69.99
Sale Price: $44.95
Price: $36.95
Sale Price: $19.95
Price: $29.95
Sale Price: $17.95
Last Updated: 04/27/2019 03:57 PM - ID:2124