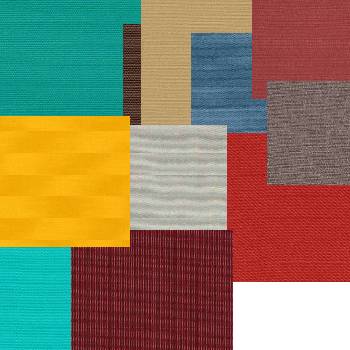 Special Order Sunbrella Color Choices
For Custom Shade Sails or Shade Panels
Sunbrella fabrics redefined the outdoor experience in the 1960s with durable and functional awnings. Decades later Sunbrella's versatile fabrics are still engineered with innovative technology and designed in an extensive range of colors and styles to ensure it fits your needs. Create a comfortable and protective outdoor retreat with awnings, shade sails, and shade panels featuring Sunbrella Marine Grade & Shade fabrics.
The colors, shown below, are available as Special Order Sunbrella Marine Grade awning fabric colors that are not stocked and are subject to availability from our suppliers. Ordering one of these colors will increase the lead time by about 1 week to order and receive the fabric before we start the normal fabrication process.
The Skin Cancer Foundation recommends Marine Grade and Shade Sunbrella fabrics as shading products as part of a complete sun protection regimen, including regular use of sunscreen, to aid in preventing sun-induced skin damage.
Last Updated: 04/08/2022 12:52 AM - ID:6785