(Click for Larger View)
Shade Sails - Triangle Desert Sand Coolaroo 9ft 10in
Coolaroo Shade Sails with Hardware Accessory Pack

Delta Ring
Coolaroo&reg Shade Sails are ideal for gardens, entryways, children's play area, patios and pools. Constructed of Coolaroo's famous polyethylene-weave fabric, it blocks 90% of the sun's dangerous UV rays while "breathing" to allow air to circulate and keep the environment underneath much cooler. With its breathable design it will also allow water to filter through. It is color fast and won't rot, mildew or mold.
Shade Sails can be easily attached with its corner D-Ring, woven into the shade sail perimeter webbing and the Stainless Steel hardware accessory pack, that comes with your shade sail, to structures or to ground-anchored steel or timber poles (not included). When properly mounted under tension, They do not sag or flap in the wind.

Dimensions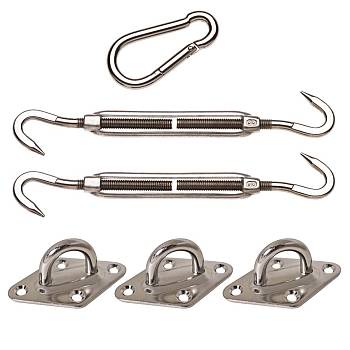 Includes Accessory Pack
Installation Guide for Shade Sails
Colors for our Shade Sails


This item has been discontinued. We apologize for any inconvenience.
Last Updated: 02/09/2018 01:50 PM - ID:4239