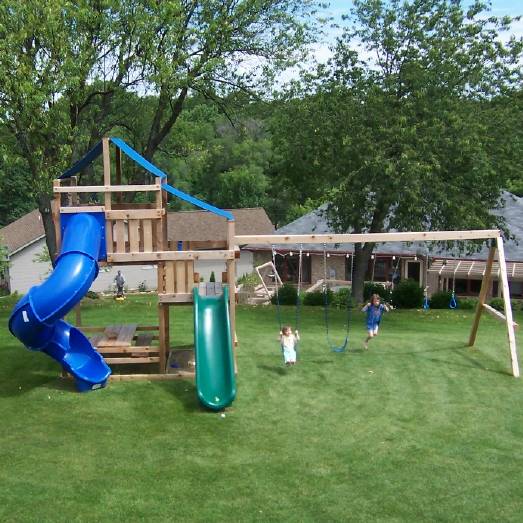 (Click to Enlarge)
Adventurer Wooden Swing Sets / Fort Kits
Wooden Swing Set & Fort Kits
The Adventurer Swing Set / Fort Kit features a large two level fort. The lower deck is 5 feet high, and the upper deck is 7 feet. The lower deck measures 4ft. X 6ft., and the upper deck measures 6ft. X 6ft. The Adventurer Swing Set is easy to modify and can accommodate nearly any type of slide.
This unique, one of a kind, wooden fort / swing set is solidly designed and engineered. Its unique design and Bolt-Thru construction offers exceptional strength and requires less lumber and less time to construct.
This solid swing set structure is supported by six 4x4s. The deck boards are 2x6 lumber and can easily support the weight of several adults. The entry ladder is inclined 30 degrees for safety and is made from 4x4 rails and large flat 2x6 rungs.
The Adventurer Swing Set offers both a 5' high deck for younger children and a 7' high deck for longer & larger slides for continued challenges as they become older. You can add one or more slides in combinations of 10', 14', or even a Spiral Slide! A swing beam will mount 8 feet off the ground, off the open 6' side of the 4'x6' deck rail, and it can be configured for 2, 3, or 4 swing positions.
The Adventurer Swing Set / Fort is a perfect Do-It-Yourself Swing Set project. With a little patience and a few hand tools, you can build an amazing Adventurer Swing Set / Fort for your children. Approximate build time is 16-20 hours. *A six foot safety-zone perimeter is recommended around our playsets (3 feet minimum).
Lumber is NOT included. Lumber costs for the fort are approximately $500-$700 using #2 pressure treated pine. You can use any type of wood you choose. Check with your local lumber professional for wood types and pricing. Click here for the Adventurer Swing Set Wood List

What Is Included with these Kits
Step-by-step, 3D illustrated manual to build the Adventurer Swing Set / Fort with sandbox bottom, and/or the 2, 3, or 4 swing position swing beam and A-Frame support assembly.
Available in 2, 3, or 4 swing positions. Belt swings come with plastisol coated chains and all mounting hardware to attach to swing beam.
Customize your swing set by choosing from Belt swings, Trapeze & Rings, Full Bucket, Half Bucket, Buoy Ball, Glider, or other swing set accessories.
Deluxe Heavy Duty Swing Hangers and Spring Clips
Two (2) removable marine grade vinyl canopy tops in your choice of Hunter Green or Blue. (Upper 58"x94", Lower 58"x63.5")
Four Pairs of Safety Handles
Electro Galvanized nuts, bolts, lag bolts, screws, washers, and snaps included. No additional hardware to purchase.

Optional Accessories
Exchange one or more belt swings for a different type of swing: Half Bucket; Full Bucket, Trapeze/Rings, Daisy Disc, Buoy Ball, Glider, etc.
The Adventurer was designed for both a 10' and a 14' slide. It can easily accommodate the awesome Spiral Slide! We offer quite an assortment of slides. Slides are sold separately. Slide delivery time is approximately 2 weeks via separate motor freight shipment.
Expandable components! Add to or customize your Adventurer Swing Set / Fort Kit. You can add Monkey Bars, Tire Swing Beam, and/or a rock climbing wall, either now or in the future

Slides sold separately.
Dimensions (Width x Depth x Height)
Fort Kit Only: - 10ft x 6ft x 14ft Tall
Fort with 10' Slide: - 10ft x 14ft x 14ft Tall
Fort with 14' Slide: - 10ft x 17ft x 14ft
Fort with Swing Beam: - Add 8ft, 12ft or 16ft to the 10ft length above for a 2, 3 or 4 position swing beam

Last Updated: 09/19/2017 05:13 PM - ID:424