(Click for Larger View)
Super Tube Spiral Slide
Strong 3/16th inch thick wall, Twisty Fun Helical Slide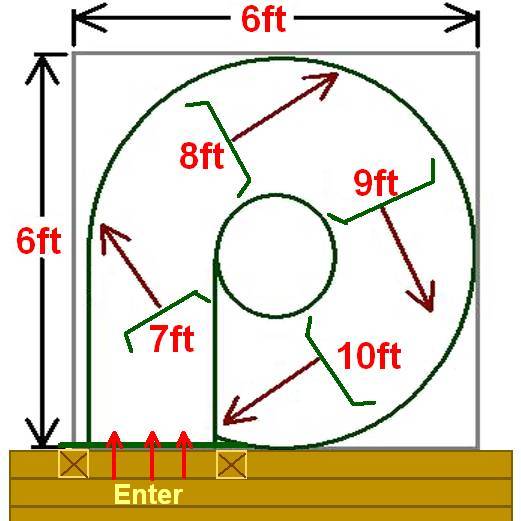 The Super Tube Spiral Slide allows you to upgrade your child's play system to include this impressive 220+ degree tube slide. Sometimes it is called Twisty, Helix or Helical Slide. Its designed to mount to a 7-foot deck height and with the use of additional 90 degree turn inserts, it can grow taller to accommodate an 8ft, 9ft or 10ft deck. This Super Spiral Tube Slide is designed to last and provide years of enjoyment. It is easy to install and makes a great addition to any Swing Set Fort deck or most any wooden playset platform.
This spiral slide is rotationally molded with 1st quality polyethylene, UV stabilized and anit-static inhibitors like most commercial grade slides. The walls are 3/16ths inch thick, nearly 2 times thicker than most other residential spiral slides.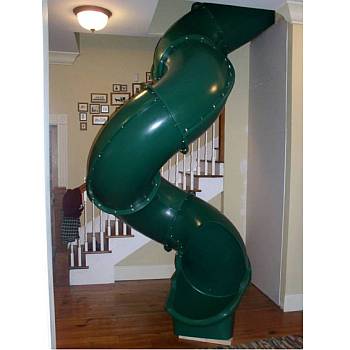 Indoor Spiral Slide Tube
Additional middle sections can be added for increased deck heights. Each section raises the required deck height by about 1 foot. When adding middle sections, some rotational adjusting can be done to fine tune it to match the actual deck height. By design, some drilling of new holes may be required for exact placement of bolts. Alternatively you can build up the area under the base with a mixture of soil and/or patio stones so the base of the slide is firmly seated.
Video below shows a tall Spiral Slide with wooden supports being built in a recent Honda Ridgeline commercial. (First playing of video just show a few seconds of commercial relevant to the slide)
Super Tube Spiral Slide Instructions
Please refresh page to see the most current info below
The manufacturer let us know they are mostly out of stock and accepting backorders. There is no ETA available. - 5/21/2018
The manufacturer has asked that we temporarily stop selling this slide and/or the 90 degree inserts below. The company that was contracted to make this spiral tube slide from their design/mold is unable to keep up with the huge demand. Manufacturer and us regret this situation but is doing what they can. They will continue to ship all slides already ordered on a first come basis as product becomes available. When this temporary issue is resolved or any further information becomes available this page will be updated - 6/25/2018
A shipment of slides just arrived and backorders are being fulfilled as quickly as possible. The mfg has asked us to verify that any backordered slides are still valid. Check emails or call us. Delayed responses may loose your place in line. New/changed/delayed response orders may be 2-3 months out. There is no ETA on next shipment but should be weekly. - 7/23/2018
Features:
Available in Green, Yellow or Blue
275 lb. load rating at 7ft
Rotationally molded
Mounts to 7ft deck height Options for 8ft, 9ft or 10ft heights
Entry Panel measures 29-1/2in W x 34-3/4in H
Entrance to slide is one solid piece
Side walls are 3/16 in. thick versus 1/16 in. on most other tube slides
Exit chute features double walled thickness with built-in footer
Spacious 24 inch inside diameter Tube
No lower attachment bracket required
All hardware included
Assembly required, detailed 3D illustrated manual included
1 Year Warranty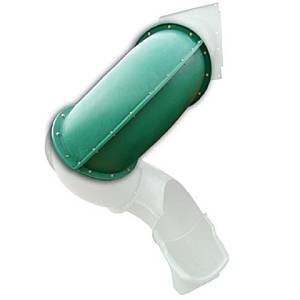 Last Updated: 07/24/2018 01:14 PM - ID:29