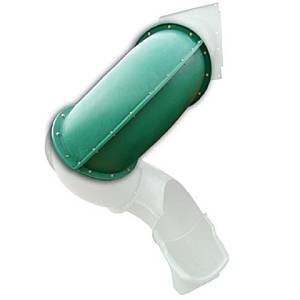 90 degree middle section for Super Tube Spiral Slide
Replacement or Add on for Super Tube Spiral Slide Only
This is a replacement or add-on middle section for the Super Tube Spiral Slide ONLY!!! It is a 90 degree elbow turn. Each middle section adds 1ft (12 inches)to the deck height of the spiral slide. Any heights over 10ft will require that some sort of support for one or more of the middle sections be installed. There are no support products available.
These insert 90 degree elbow turns are used primarily to supply 7ft-10ft slide orders first and foremost. Supply could limited and delay shipping from time to time.
Package ships OVERSIZED
Mfg has requested to reserve these 90 degree middle insert slide sections to be made available ONLY to previous customers. You may be asked for a prior proof of purchase order/invoice # for order acceptance and shipping.
Features of Spiral Slide Insert
90 degree turn
Colors: Blue, Yellow or Green
Includes bolts
Adds 12inches to height of the Spiral Tube Slide
Last Updated: 04/18/2022 11:11 AM - ID:6701