Freestanding Offset Umbrella Base
Works only With C-Series and P Series FIM Offset Umbrellas
The Freestanding Offset 3-piece Aluminum Base provides extra space in front of the umbrella pole as all the weight is offset to the back of the umbrella. This base has a 26" x 50" and only requires four (4) 24" square concrete patio blocks with 2" thickness as weights (not included). Minimum total weight needed must be at least 240 lbs. (4 x 60 lbs. pavers) This base is NOT recommended for Windy areas. Use of planters on top of pavers makes this base more secure.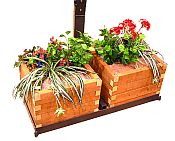 Freestanding Offset Base w/ Planters
The Freestanding Offset Base does not include the base support tube as this is part of the umbrella. This base will work with FIM offset pole umbrellas only.
Features of Offset Freestanding Base - FSB-OS
3-Piece aluminum base frame 26in x 50in footprint
Offset base allows more room in front of umbrella
Total weight MUST be at least 240lbs. (4 x 60lbs.)
Works with C-Series FIM Offset umbrellas
Designed for 24in square pavers
Not recommended for WINDY areas
Pavers not included
Last Updated: 02/02/2023 04:41 PM - ID:1827