Custom Shade Sails
Custom Shade Sails in Commercial 95 and Sunbrella Fabrics
Do you need a Shade Sail that is not available in a standard size or shape? We are proud to make Custom Shade Sails to fit almost any size and shape in a variety of colors and materials. Also known as Sun Sails, they make beautiful additions to your patio, backyard, or other outdoor areas. A sail is the perfect alternative to a traditional pergola or covered porch. Floating and curvaceous, they make an attractive addition to any property, and with the right design can enhance the existing property with artistic or architectural flair and style. Shade Sails are a decorative and affordable way to create shade that will provide protection from the sun and keep you more comfortable in hot weather. We make our sails with either Commercial 95 Shade cloth or Marine Grade Sunbrella Awning fabric.
Custom Shade Sails with Commercial 95
Commercial 95 fabric is a high-density polyethylene knitted fabric weighted at 340 gsm and is specially designed to breathe and keep you cooler and more comfortable in hot weather. This state-of-the-art material blocks up to 98% of the harmful UV rays of the sun. Also, because Commercial 95 fabric is knitted, not woven, it will not tear or fray. Shade sails have reinforced webbing around the perimeter and a stainless steel "Delta" ring at each corner. Commercial 95 material is not waterproof. In order to keep costs down most sails will have seams unless otherwise requested. Com 95 comes only in widths 9ft-10in, so any sail that is larger than 9ft wide will have seams.
Custom Shade Sails with Sunbrella
Sunbrella Shade fabric is a solution dyed acrylic canvas breathable fabric to keep you cooler and more comfortable in hot weather. This modern material is unaffected by moisture and natural temperature extremes and blocks up to 98% of harmful UV rays. It is fade and water resistant. The near waterproof fabric also resists stains, mildew, and rot. The perimeter of each sail contains seatbelt type webbing for increased strength and durability. Each corner has a welded, solid, marine grade, stainless steel attachment ring to aid in connecting the sail to a structurally sound fixing point.
Sails made with Sunbrella cloth have to be installed with at least a 20-degree slope to allow water to run off and not pool on top. Due to the limited available Sunbrella fabric widths, there will be seams approximately every 40-57 inches. For every 10ft across the ground, the fabric needs to change height by at least 3-1/2 feet to be at least 20-degree slope.
If you supply us with attachment point dimensions, we will automatically take off 11 inches to allow enough space for the mounting hardware, plus an additional 5% of the remaining length to allow for fabric stretch. enough space for the mounting hardware and to tension the sail. All final shade sail measurements will be approximate due to tolerances during the fabricating process. Mounting Hardware sold separately!
The perimeter of each sail is designed with a gentle curve inwards towards the center of the sail to control fabric tension. This inward curve will have a maximum depth, or gore, of approximately 6-10% of the length of that side of the shade sail. Therefore, when tension is placed on the shade sail, the fabric will not wrinkle or sag. Shade sails, when installed properly, do not sag or flap in the wind.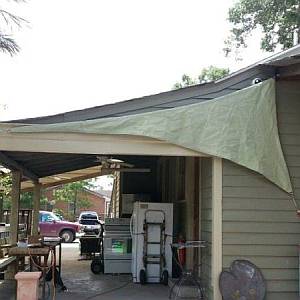 CAUTION: If the area you wish to shade is much longer on one side and not very wide on the other, the inward curve will protrude far enough into the sails shape, the corner of the two long sides will become a skinny strap. This may be unexpected to the average person. So please be careful when designing your shade sails.
To the left is how a custom triangle shade sail corner may appear as the the two dimensions approaches twice the length of a third dimension. The inward curve of the two long sides makes the fabric converge quickly. And here is an extreme example of Custom Triangle Shade sail with Skinny Corners where two long sides far exceeds twice that of the short side.
Sail Shades are wonderfully versatile; they can be attached to homes, trees, or patio columns. In addition, they can be supported by wood posts or steel columns embedded in concrete footings, and they can also be taken down seasonally as required.
Shade Sails are the most cost-effective shade solution per square foot!
Last Updated: 11/12/2023 12:48 AM - ID:1883