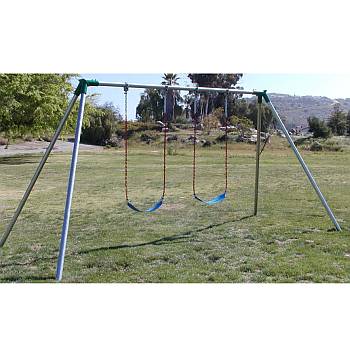 Metal Swing Sets & Swing Set Kits & Playground Equipment
Commercial Metal Playsets for backyard, daycare, schools, parks and more.
Choose a metal swing sets for your own backyard that is the same solid, durable quality that you find in public playgrounds? Our Metal Swing Set Kits are tough enough for all the neighborhood kids and can help kids develop strength and coordination while encouraging social interaction and cooperation. Few neighborhood backyards have a play area of this caliber, and with our sets, this goal is reasonable and within your budget. For Ages 5 - 12yrs.
The materials used to handcraft these heavy duty metal swing sets were selected for their strength and ability to withstand heavy use and exposure to weather. Our metal swing sets are constructed of rust-resistant galvanized steel, making them virtually maintenace free. Combine them with commercial rated aluminum compression clamping yokes, galvanized ductile iron swing hangers with oil impregnated bearings, and rust-resistant galvanized 4/0 straight coil chains. All pipes used on these swing sets are Schedule 40 heavy duty pipe. You also have your choice of belt and chain color on all metal swing sets. Chains come with plastisol coating to prevent pinching little fingers.
Commercial Use Note: If you are going to use the Metal Swing Set in a commercial environment, such as a church, park, or school, then you may need to purchase a commercial rated swing seat as per local codes. Use of a Residential Swing Set seats/swings in a commercial environment will void the warranty with all manufacturers.
Metal Swing Sets - Articles & Guides
Price: $106.99
Sale Price: $79.95
Price: $99.99
Sale Price: $72.94
Last Updated: 02/02/2023 04:08 PM - ID:395