Off-The-Wall-Brella™
Half Canopy Umbrellas & Custom Cast Base
The OFF-THE-WALL BRELLA is a half-canopy champagne powder coated aluminum patio umbrella that stands, without attachment, flush against a wall or vertical surface to provide needed shade to areas where opening a traditional round umbrella is not practical and space is just not available. Unlike fixed awnings over windows or doors, this decorative umbrella can be moved where needed to provide shade and ambience.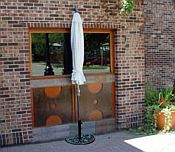 Half Canopy Umbrella
The versatility of the OFF-THE-WALL Umbrella gives cafes, restaurateurs, coffee shops, and other businesses the ability to create or expand their seating and serving capacity by converting otherwise unused areas into useful dining or serving stations. Outdoor Event Planners can have shade whenever and wherever they want.
These Half Umbrella Canopies comes in two sizes: 9 ft. x 4-1/2 ft. and 7-1/2 ft. x 3-3/4 ft. The umbrella canopies come in Red, Yellow, Green, Blue, Natural, and Chocolate color Olefin® or Sunbrella® fabric. The umbrella includes a specially designed cast champagne powder coated umbrella base.
The OFF-THE-WALL BRELLA™ is a perfect complement to our TERRACE MATES™ patio furniture sets. TERRACE MATES™ offers an innovative solution to the search for shade and dining space on narrow balconies and terraces. At last, condominium, townhouse, and apartment dwellers can effortlessly transform cramped and long ignored patio, deck, or veranda areas into a welcoming and vibrant addition to home and lifestyle.
Price: $210.00
Sale Price: $159.00
Price: $238.00
Sale Price: $179.99
Last Updated: 02/02/2023 04:43 PM - ID:1522