Super Tube Spiral Slide
Twisty Fun Helical Slide with Strong 3/16th inch thick walls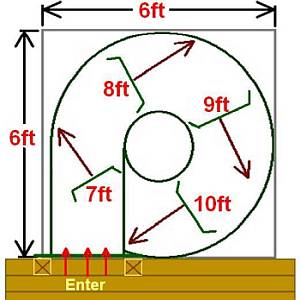 The Super Tube Spiral Slide allows you to upgrade your child's play system to include this impressive 220+ degree tube slide. Sometimes it is called Twisty, Helix or Helical Slide. Its designed to mount to a 7-foot deck height and with the use of additional 90 degree turn inserts, it can grow taller to accommodate an 8ft, 9ft or 10ft deck. This Super Spiral Tube Slide is designed to last and provide years of enjoyment. It is easy to install and makes a great addition to any Swing Set Fort deck or most any wooden playset platform.
This spiral slide is rotationally molded with Highest quality polyethylene, UV stabilized and anit-static inhibitors like most commercial grade slides. The walls are 3/16ths inch thick, nearly 2 times thicker than most other residential spiral slides.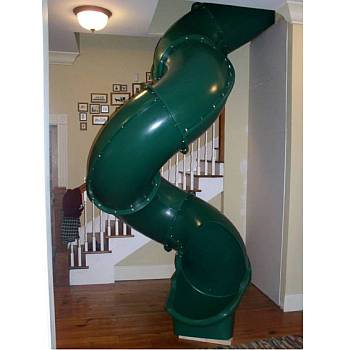 Additional middle sections can be added for higher deck heights. Each section raises the required deck height by about 1 foot. When adding middle sections for heights over 7ft, some rotational adjusting of the sections will be needed to fine tune it to match the actual deck height. This may require some drilling of new holes for placement of bolts as suggested by the manufacturer. Alternatively you build a step on the high deck, or can build up the area under the base with a mixture of soil and/or patio stones so the base of the slide is firmly seated.
Super Tube Spiral Slide Instructions
Video below shows a tall Spiral Slide with wooden supports being built in a recent Honda Ridgeline commercial. (First playing of video just shows a few seconds of commercial relevant to the slide)
This slide CANNOT be shipped to Alaska, Hawaii or Canada!
To the best of our knowledge, there are NOT any other residential spiral tube slides above 7ft high decks. There are plenty of commercial slides starting around $6,000 on up.
Super Tube Spiral Slide Pricing

7 foot high deck
$879
8 foot high deck
$1,209
9 foot high deck
$1,539
10 foot high deck
$1,869
** Note: S&H cost will be additional
ALL COLORS NOW IN STOCK & CURRENTLY SHIPPING.
Don't delay ordering as the slides will be fulfulled and shipped based on date of order. Avg time to deliver is 1-2 weeks.
Features of Super Tube Spiral Slide
Available in Green, Yellow or Blue
275 lb. load rating at 7ft high. Drops 20lbs each foot higher.
Rotationally molded
Mounts to 7ft deck height Options for 8ft, 9ft or 10ft heights
Entry Panel measures 29-1/2in W x 34-3/4in H
Spacious 24 inch inside diameter Tube
Entrance to slide is one solid piece
Side walls are 3/16 in. thick versus 1/16 in. on most other tube slides
Exit chute features double walled thickness with built-in footer
No lower attachment bracket required
All hardware included
Assembly required, detailed 3D illustrated manual included
1 Year Warranty
Last Updated: 02/02/2023 04:39 PM - ID:29