Custom Tab Top Outdoor Curtains & Drapes
Create a dramatic entryway to your outdoor space with Exterior Draperies
Our Outdoor Tab Top Curtains & Drapes offer a classic simple and serene style and a perfect solution. These classic drapes are free hanging with fabric tabs at the top. They are made with no rings, grommets or hooks. Tab top drapes can be used to add dimension and design to any outdoor space. Choose from a variety of well known Sunbrella Outdoor Fabrics or some sheer Mosquito fabric and coordinate your curtains with your decor!
Matching fabric tabs slip directly over a curtain rod. Create a more romantic entryway to your outdoor space, tab top drapes can be pulled open with tie backs.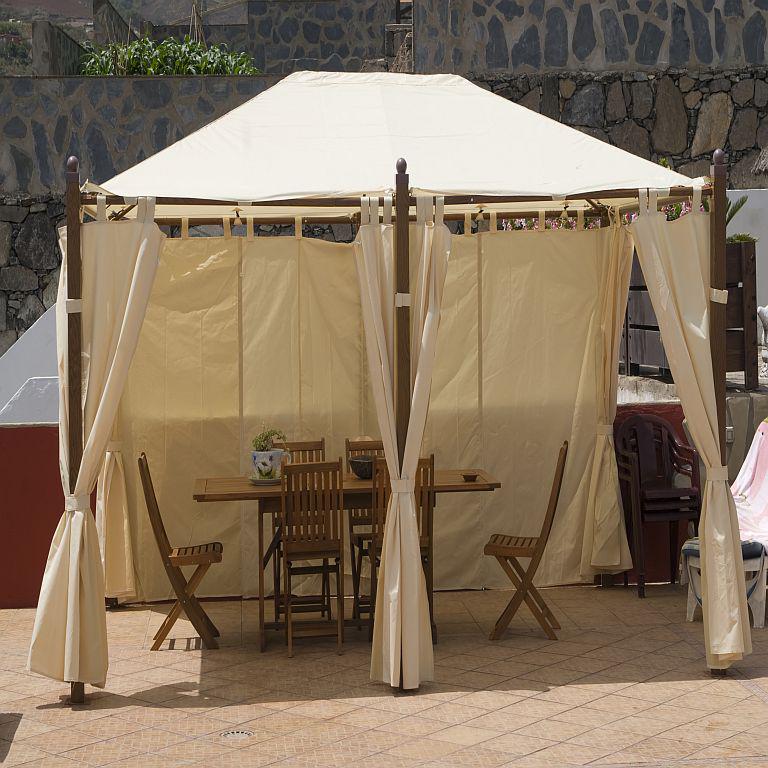 Tab Drapes
Our custom tab top curtains are hand made here in North America to your specifications. Our Sunbrella outdoor fabrics carry a 5-year warranty against fading! Our custom outdoor curtains provide unmatched quality and durability. Unlike curtains you can find at many "Big Box" or mail order catalogs, our curtains are made to provide you with long lasting quality that you'd expect from a quality custom outdoor curtain or drape.
How to Measure for your Outdoor Curtain or Drape
Length
All sizes are measured in inches. The total height should be measured from 1/4" above where the rod is mounted (or will be mounted), down to where you want the bottom of your curtains to be. Usually that will either be an inch or two above the floor, to the floor to allow the curtain to touch the floor, or add a few more inches to allow the decorative curtains to bunch or pool at the bottom when pulled back. Please note, when you insert the rod into the pocket of the curtain, it opens the pocket and this "Rod Take-Up" will pull the bottom of the curtain upwards. You may want to add the diameter of the rod you are, or will be using, to your finished length to compensate for this "Rod Take-Up".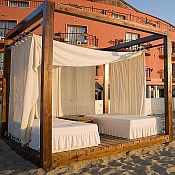 Custom Tab Top Drape & Canopy
Width
All sizes are measured in inches. The proper width of your drape or curtain should be the actual width of what you want it to cover when closed, multiplied by 1.5 or more. This should allow enough "extra" fabric to still look like a flowing curtain when you close the curtain to cover the width. If you didn't allow for this, the curtain would look like a stretched fabric when closed. Please note: Sunbrella fabric is manufactured in specific widths. We can accommodate any width curtain, but the curtain panel will have a fairly unnoticeable seam.
Tie Backs
Our optional tie backs are 3" wide by 29" long. They are made from the same identical fabric you choose. These are very simple single fabric rectangles with a plastic ring stitched on each side that can be connected to a hook. The plastic ring can be eliminated if you wish to tie in a bow. A brass grommet can be put in the middle to be attached to side posts where the ends can be used to tie up curtain with a bow. (Mounting hardware not included.) Tie Backs are $19.95 a pair.
Tabs
Unless otherwise indicated, our tab tops are 2" wide and measure 4" from top of curtain when attached. Depending on the width of your curtain, they are spaced approximately 6" apart. These easily fit rods up to 2" in diameter. (Rods & rod hardware not included)

Please click on this Custom Tab Top Curtain & Drapes Quote Form, fill it out and fax it to 901-531-8145. It will take approximately 1 business day to process and quote the Curtains or Drapes you need.
5 Year Limited Warranty
We warranty against defects in materials and workmanship (stitching, grommets, tabs and the like) for a full one year from the date of order, under normal and expected usage and exposures to the elements. This warranty does not cover abuse, improper care, accidents, Acts of god (like wind or hail damage) or against normal breakdown of material over an extended time. We will repair or replace, at our discretion, upon our inspection. All furniture grade Sunbrella Outdoor Fabrics carry a 5 year fabric warranty. All other fabrics will be warranted for one full year from date of purchase.
We can take special requests like, but not limited to, weight pockets at bottom, grommets, tabs or rod pockets on the bottom, etc.
Fabric curtain panels start at only $3.15/sf for sheer and $7.15 for instock Sunbrella.
All outdoor curtains or drapes are custom made to your specifications.
Therefore all sales are final. No refunds or returns can, or will, be accepted.
Last Updated: 02/02/2023 04:16 PM - ID:4220