(Click to Enlarge)
Guadua Commercial Umbrella - 9ft Octagon with Fiberglass Ribs
New Commercial Heavy Duty with Break Resistant Ribs by FiberBuilt®
Tired of having your umbrella become useless due to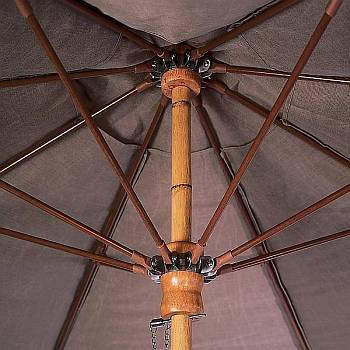 Click to Enlarge
broken or bent ribs in windy conditions? This Heavy Duty Commercial umbrella has
BREAK RESISTANT
fiberglass ribs that allow the ribs to flex in higher wind conditions. It has been tested in
winds over 50mph.
Fiberglass ribs are 4 times stronger and up to 30% lighter than traditional wood or metal ribs.
3 YEAR WARRANTY
on the fiberglass ribs.
Why haven't you seen fiberglass used in umbrellas before?
Good question! Fiberglass has always been the ideal way to build umbrellas, but it was too expensive for the average buyer. New production methods now bring down the price so everyone can now afford quality fiberglass ribbed umbrellas.
In wind tests conducted by the University of Miami, it was concluded that the fiberglass ribs bend & flex, which spills the winds' energy that would normally break the ribs or the pole of an umbrella.

The pole is 2" inches diameter with a 5"H x 3 1/2" Solid wood Hub. The pole comes standard in the FiberTeak Simulated Bamboo finish. FiberTeak is a heavy duty aluminum one piece pole finished in a Simulated Bamboo appearance. FiberTeak looks like the real thing and will last years longer.
This durability, combined with an inherent resistance to rust and corrosion, results in umbrellas that last four to five times longer than traditional steel or wood ribbed umbrellas. This makes it a perfect investment for your outdoor cafe, restaurant, bistro or other outdoor business.
The canopy is made of Sunbrella Marine Grade Awning fabric and is available in many different color choices and is backed by a 5 Year Warranty
Stock canopy colors available in Forest Green, Natural, Pacific Blue, Beige, Navy Blue and Black. Many other canopy colors available as a special order. Special orders may take up to 4 weeks to ship!
Other options such as valances, double wind vents, custom logo printing, quantity discounts on 10+ orders are available on a case by case basis.
Umbrella is Proudly Made in the USA!
Features:
Fabric: SunBrella Marine/Awning Grade
Overall Height: 96 inches
Pole Diameter: 2 inches
Pole: 1 piece FiberTeak with Solid Wood Hub
Base: Fits base that supports a 2" pole.
Ribs: (8) 1/2" Fiberglass Ribs
Canopy Size:9 feet diameter Octagon
Lift: Manual Push Up with Pin Placement
Fiberglass Ribs: Tested to 50 MPH!!
Warranty: 5 Years on the Canopy, 3 Years on the Ribs & 1 Year on the pole


This item has been discontinued. We apologize for any inconvenience.
Last Updated: 02/09/2018 01:56 PM - ID:4911