(Click for Larger View)
Banff Storage Shed
Roomy, Yard Saving Storage Shed
You need some storage space and are tired of all the clutter and mess in your garage and yard, but you have very little space to work with. The Banff Storage Shed was designed for people just like you. The Banff Shed measures 6ft x 3ft and does not take up much room, but offers the perfect, practical solution for storing bikes, skis, tools, small equipment, and more. The door and window can be located in up to 4 different locations making this shed versatile enough to meet just about anyone's need. Comes with Pre-Built Panels for quick and easy assembly and includes cedar shingle roof panels. There is no cutting necessary and all hardware is included, even the bit.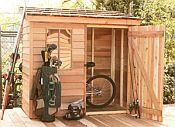 Click to Enlarge
The Banff Storage Shed kit is made from Western Red Cedar. This type of wood is renowned for its natural beauty and outstanding physical properties that make it one of the worlds most unique woods. Red Cedar is free from pitch and is naturally decay and insect resistant. Cedar's low density gives it an insulation value superior to most other species. Lightweight, easy to work, easy to finish, possessing outstanding dimensional stability, Western Red Cedar is a preferred wood for nearly all purposes where attractive appearance or resistance to weather is important. Western Red Cedar is one of the few wood species that are naturally at home in the outdoors. It is classified as a durable wood by the building codes across North America, which permits the use of its heartwood in exterior applications without preservative treatments.
Click the following link for information on Preparing the Foundation For Your Shed.
Please click here for Banff Storage Shed Instruction Manual.
Features:
Size: 6ft. X 3ft.
Inside Dimension: 69" x 32"
Inside Height: 63-1/2 inches (Front) 70-1/2 inches (Back)
Outside Dimensions: 5ft 11in x 2ft 10in
Overall Outside Height: 77 inches
Entrance Dimensions: 31W x 57-1/4"H
Square Footage: 15sf
Assembly Time: Approximately 4 to 5 hours
Pre-Built Panels for Quick and Easy Assembly
Includes Cedar Shingle Roof Panels
No Cutting Required
All Assembly Hardware Included - even the bit
Easy Step by Step Instructions
2" x 3" whitewood framing lumber for walls and roof
2" x 4" floor joists with precut plywood panels
Ideal for yards with a small narrow space.
Dutch door can be mounted in the front or either side
Shed comes with one non-functional window


This item has been discontinued. We apologize for any inconvenience.
Last Updated: 02/09/2018 01:51 PM - ID:3368