(Click for Larger View)
Premier Roller Shade - Desert Sand 10x6
Outdoor Window Roller Shade
CoolarooŽ Premier Roller Sun Shades are knitted of PVC coated all-weather polyethylene fabric that keeps out 80% of UV rays, yet allows air through. That combination reduces the indoor temperature, and also allows some light to filter in so you can keep an eye on the outside. Premier Roll-up Shades are now available in select sizes. These are the same sun shades as the Custom Solar Shades and are available in 4, 6, 8 and 10 foot widths. All of the stock Premier shades are 6 feet long. Premier shade fabric stops the sun's heat before it strikes your window, thus reducing the heat transfer. As a result, your home or business stays cooler. Reduces room temperatures from 20-25% when mounted on the outside of the window, saving energy and money.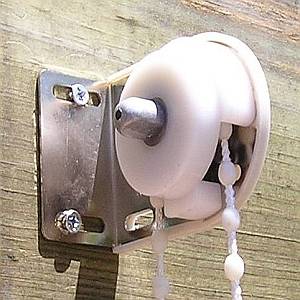 Clutch End Bracket
Roll up Shades block the sunlight, but not your view. Protection from prying eyes is an additional benefit of Premier Sun Shade fabric, allowing you the utmost in daytime privacy (under most conditions) you will be able to see out, but no one can see in. This is not a "blackout" shade; light will filter through.
All Premier window shades are measured from Outside Bracket to Outside Bracket. Brackets are universal and they will work for ceiling (top mount), or wall (side mount). You will need 2 1/4" tall x 3" away from surface to mount these brackets. Cloth width will be slightly less than Bracket to Bracket measurement. 2 1/4" less if width measurement is 4 feet and 2 1/2" less for the 6, 8 and 10 foot shades.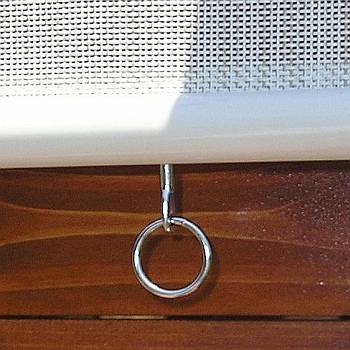 Stainless Steel Tie Downs
These Window Shades are easily raised or lowered with a smooth action roller clutch mechanism designed to provide a smooth, even roll even when exposed to extreme weather conditions. Stainless Steel "Tie-Downs" come in the bottom rail so you can easily secure your blind especially during those windy days.
Only Coolaroo Window Shades feature Coolaroo's unique Commercial Grade knitted fabric specially designed to breathe and keep you cooler and more comfortable in hot weather. This state of the art material blocks up to 80% of the sun's harmful rays, yet it remains totally unaffected by moisture and natural temperature extremes. And because the Coolaroo fabric is knitted, not woven, it won't tear or fray. These will most likely be the longest lasting outdoor window shades you will ever buy. Save money and your precious belongings with Premier Roll up Shades.
The stock size shades do NOT come with a matching valance and these are not available with these shades. The continuous loop chain hangs down 80% of the shade length.
Features:
Size: 10ft wide x 6ft long
Color: Desert Sand
Continuous Loop Clutch Control to raise and lower the shade.
Stainless Steel Tie Downs
Universal Mounting Brackets
Blocks Up to 60% of the Sun's Rays - 80% UV Protection
Saves on Energy Bills
Blocks the Sun, Not the View
Knitted PVC coated all-weather polyethylene fabric
Does NOT come with a valance
Valance is not available with this window shade
3 year limited warranty
This shade has to ship via truck line due to the length


This item has been discontinued. We apologize for any inconvenience.
Last Updated: 07/18/2018 08:35 PM - ID:2796