Coolaroo Shade Sails
A Coolaroo Shade Sail Helps You Keep Your Cool - Hardware Accessory Pack included
Coolaroo Shade Sails are the ultimate in stylish sun protection. Courtyards, pool areas, gardens, children's play areas, car spaces, and even entry ways can all benefit from the cool good looks of a Coolaroo Shade Sail.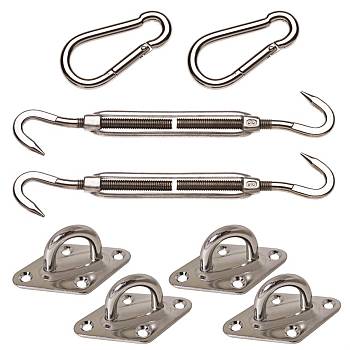 Hardware Accessory Pack
We now offer the same great Coolaroo shade sails with the Accessory Hardware Pack included at a great price! Each hardware pack comes with Stainless Steel hardware and is customized for a Triangle or Square Shade Sail
Only Coolaroo Shade Sails feature Coolaroo's unique Commercial Grade high density polyethylene knitted fabric specially designed to breathe and keep you cooler and more comfortable in hot weather. This state of the art material blocks up to 90% of the sun's harmful UV rays yet remains totally unaffected by moisture and natural temperature extremes. And because Coolaroo fabric is knitted, not woven, it won't tear or fray.
The perimeter of each sail is designed with a gentle curve inwards towards the center of the sail to control fabric tension. Shade sails have reinforced webbing around the perimeter and a stainless steel "Delta" ring at each corner. Therefore, when tension is placed on the shade sail, the fabric will not wrinkle. Shade sails do not sag or flap in the wind. The material is not water proof.
Coolaroo is discontinuing this line of Shade Sails. Availability is limited to stock on hand while it lasts.
Last Updated: 02/09/2018 01:49 PM - ID:2377