(Click to Enlarge)
Zubri Portable Propane Heater - 24,000 BTU
Portable Outdoor Propane Patio Heater
The Zubri Z1-8HR outdoor propane patio heater from Schaefer Ventilation offers a cozy 24,000 BTUs of warmth (depending on conditions). Perfect for almost any occasion such as picnics, wedding receptions, outdoor patio parties or other outdoor gatherings.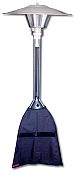 Zubri Portable Outdoor Heater
Zubri heaters are the most portable and lightweight outdoor heaters available today. Available in a beautiful charcoal gray, Zubri heaters require no tools to assemble and can easily be converted to a table top heater (conversion kit included)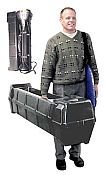 Zubri Carrying Case
People across the country are spending more and more time outdoors dining and entertaining. But when it's too cool in the shade or just not warm enough outside a Zubri portable propane heater is the perfect solution so you can enjoy the outdoors longer and later into the night.
Schaefer Ventilation Portable Outdoor Zubri Patio Heaters are one of the best outdoor heating solutions available for restaurants, event planners, party organizers, resort owners and homeowners. There isn't anything on the outdoor heater market that is as compact, lightweight and as reliable as portable Zubri patio heaters! The Z1-8HR heaters are rated at a comfortable 24,000 BTUs.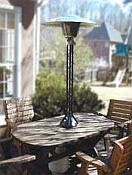 Convert to a Table Top Heater
Extend your patio use throughout the cooler seasons with these portable Patio Heaters from Schaefer Ventilation. These are comfortable outdoor patio heater solutions that are economical and easy to setup and use.
The ZUBRI heater includes a hard shell carrying case, leg skirt, and reflector bag.
Zubri Assembly Instructions

This item has limited stock. Please call for availability.
Features of Zubri Portable Heater - 24,000 BTU
Lightweight and Portable
No tools necessary to assemble
Includes hard shell case, leg skirt, and reflector bag
Available in charcoal grey
Adjustable heat control to fine tune your heating needs
Table Top Patio Heater conversion kit included
Quiet operation - won't intrude on your conversations
Economical to operate
Features of Benefits:
24,000 BTU (measured directly from reflector at full power)
Weighs only 41 pounds
Heats approximately 16-18 foot wide circumference area - your results may vary according to conditions
Utilizes common 20 pound propane tank (not included, can be purchased at any hardware store)
3.41 BTU's = 1 Watt
7 feet 2 inches Tall
Outdoor use only


This item has been discontinued. We apologize for any inconvenience.
Last Updated: 02/04/2019 01:48 AM - ID:1664