Fire Sense Cart Fire Pit
Square Fire Bowl
Enhance your outdoor living space with the Fire Sense Cart Fire Pit. This fire pit features a unique square design and a convenient fire wood storage rack. It has a heat-resistant painted steel fire bowl. Features also incluse large wheels and a handle bar for easy mobility and storage. A wood grate and fire tool are also included.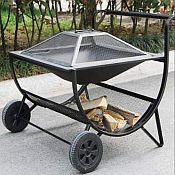 Click to Enlarge
Fire pits and fire bowls are designed to keep you enjoying the outdoors all year round. Fire pits and bowls make an attractive addition to your outdoor decor. Plus, they are perfect for family and friendly gatherings because of the warmth and glow they bring to your backyard, patio, or pool area. We offer a large variety of fireplaces, fire bowls, and fire pits and are proud to carry the best in portable outdoor products to warm up winter and chilly nights.
CAUTION: It is not recommended to use this fire pit on a wooden or other combustible surface or on any surface that is not entirely resistant to high heat. However, if you intend to use this item on a wooden deck, other combustible surface, or any surface that is not entirely resistant to high heat, you must use a non-flammable and heat-resistant material, such as concrete pavers, brick, or stone between the fire pit and the surface.
Features of Fire Sense Cart Fire Pit
Square heat resistant painted steel bowl and fire screen
Wheels and handle bar for easy portability
Wood grate and fire tool included
360 degree view of fire
Wood storage rack
Portable
Dimensions: 27.97"L x 29.55" W x 24.43" H
Weight: 20 lbs.


This item has been discontinued. We apologize for any inconvenience.
Last Updated: 02/02/2023 04:17 PM - ID:6200