Sun Stack Chiminea with Gas Kit Outdoor Fireplace
Wood Burning Outdoor Fireplace
Warm, toasty sun can be enjoyed year round with the Sun Stack Chiminea with Gas Kit from The Blue Rooster Company. The brilliantly designed Sun Stack Chiminea is a large size Sun style chiminea. This outdoor fireplace is easy to light and is clean burning (due to proper drafting). It is made of heavy cast aluminum, which is up to 3/4 inches thick in some areas--it is built to last. The chiminea is available in propane or natural gas. A grill insert for wood fires is included for those late night burgers.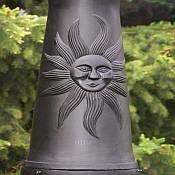 Design Details
The gas kit and 7 piece set of ceramic logs combine the enjoyment of an outdoor fireplace with the convenience of gas operation. The deluxe ceramic fire logs glow when heated and look very realistic. The logs can be positioned individually to fit your personal style. The Sun Stack Chiminea with Gas Kit can be converted to a woodburning fireplace by removing the gas components and converted back again by simple installation. Propane and natural gas are not recommended for outdoor cooking. Due to different natural gas configurations, contact your local gas company for natural gas installations. Propane installations can hook directly to a separate propane grill tank or existing grill tank using a Y valve.
Protect your chiminea year round with a 600 Denier oxford cloth material. Designed to withstand years of use, this material has been specially treated to shed water and still allow airflow to prevent mildew. The cloth design makes it flexible even in sub zero temperatures and can be washed when needed. A drawstring bottom ensures an extra snug fit to protect your chiminea investment. The Large covers are designed to fit Medium and Large chimineas, which are up to 60" around. The covers are available in Forest Green, Royal Blue, and Charcoal (black).
Protect your decking or patio from sparks or embers by placing the fire resistant chiminea pad under your outdoor fireplace. Made of flexible, fire resistant woven fiberglass material and mounted to a tough latex rubber backing, this is the perfect accessory for your new chiminea.
Features of Sun Stack Chiminea with Gas Kit
Non-rusting solid cast aluminum alloy body
Safe clean burning single opening traditional design
Gas chiminea insert w/ceramic log set
Removeable rain lid
Removeable neck
Carry handles for easy arrangement
Cast iron grilling insert for wood fires
Cast iron bottom grate to support wood fire
Hinged mouth safety screen
Spark arrestor neck insert
Your choice of Gold or Charcoal
Dimensions: 54" x 22"
Approx Weight: 85lbs


This item has been discontinued. We apologize for any inconvenience.
Last Updated: 02/02/2023 04:18 PM - ID:4524