California Campfire Outdoor Firepit
Portable Outdoor Fire Pit
It doesn't get any better than sitting next to a blazing fire with friends and loved ones. The California Campfire will provide many days and evenings of campfire memories right in your own backyard. This firepit is a one of kind backyard accessory.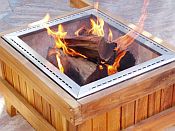 Click to Enlarge
Portable and safe, this outdoor firepit is beautiful and easy to use. Quality solid wood exterior construction, the patented convection design keeps the exterior surface cool to the touch. The campfire features a stainless steel pan and 3 piece stainless steel spark guard with handle to keep embers in control. The masonry firebox was built to last and will easily endure the hottest fires. Heavy duty cover is included to protect your California Campfire and keep it looking new and lasting a long time.
Features of California Campfire Outdoor Firepit
Dimensions with Spark Guard:40" x 31.5" x 29.75"
Without spark guard (affects height only): 40" x 31.5" x 17.75"
Burn surface dimensions: 22.75" x 18"
Quality solid wood construction.
Patented convection design keeps exterior wood surfaces cool to the touch
Stainless steel pan
3-Piece Stainless Steel Spark Guard with handle keeps embers in control
Durable Heavy Steel Grate
Easy Loading & Tending
Protective Cover Included
1 Year - Limited Warranty
Assembly Required
Free Shipping


This item has been discontinued. We apologize for any inconvenience.
Last Updated: 02/02/2023 04:18 PM - ID:2873