Ball of Fire - Fire Pit
Unique Backyard Fire Pit
This unique fire pit will brighten your gatherings and give the illusion you have a Ball of Fire floating in midair right in your own backyard. Keep friends and family warm and comfortable with this one of a kind fire pit. The "Ball of Fire" features a large 30" firebowl with an unobstructed 360 degree view of the fire and a large pivoting door giving you easy access to your fire. The "Ball of Fire" is all steel construction and is not quite like any other backyard firepit you may have seen before. Take the Ball of Fire with you camping, tailgating, picnicking or just sitting around in the backyard on a cool autumn evening. This has proved to be a very popular backyard addition, so order your one of a kind firepit now while supplies last!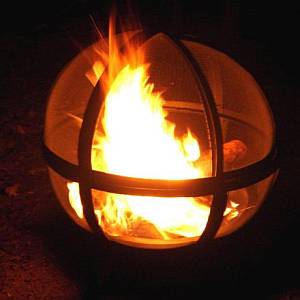 Click to Enlarge
Portable and safe, this outdoor fire pit is easy to use and will keep your blazing fire safely contained. Don't stop inviting friends and family over just because it has gotten a little cool at night. If your backyard is missing something, try an outdoor fire pit and continue those backyard get togethers throughout the year. Quality workmanship means you will be using your "Ball of Fire" fire pit for years to come. Winter gets a little warmer when you have your own contained roaring fire in your backyard.
Features of Ball of Fire
Firepit
Dimensions: 30.25"L x 32.75"W x 34.75"H
Durable Steel Spark Arrestor
Weight: 40lbs
30" firebowl
Easy Open lid for loading and tending
Comes with a protective cover specially designed for this particular fire pit
1 Year - Limited Warranty
Assembly Required


This item has been sold out, and we do not plan to restock it. We apologize for any inconvenience.
Last Updated: 02/02/2023 04:18 PM - ID:2957