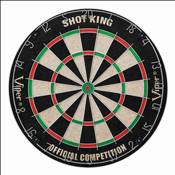 The Shot King Sisal Dartboard
The perfect board no matter your skill level!
The Shot King Sisal Dartboard by Carmelli™ is the perfect board for playes of all skill levels. The round wires and staple fee bulls eye provide for fewer bounce outs and the movable ring helps to extend the life of your board along with the sisal fibers. The easy to use mounting hardware means youre dartboard will be hung and ready to use in no time at all.
Features of Shot King Sisal Dartboard
Dimensions: 18"H x 18"W x 105"D
Self-healing board made of sisal fibers
Moveable number ring extends the life of the board
Easy to use mounting hardware
Games Manual Included
Includes 2 sets of steel darts
Round wires and fewer staples for fewer bounce-outs
Last Updated: 02/02/2023 04:11 PM - ID:6674