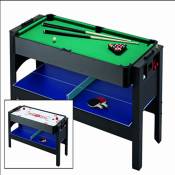 Triple Threat Three-IN-One Flip Table - NG1022M
A high quality table with Air Hockey, Table Tennis, and Billiards all in one!!
Get ready to bring in great fun for the whole family with a little twist. The Triple Threat 3-IN-1 Flip table is great for all families and groups and all occasions. This high quality table features Air Hockey, Billiards and Table Tennis all wrapped up in one. The table is five feet long, just over 2 and a half feet wide and just over two and a half feet tall. The Air Hockey side of the table top has a playfield of 61.75"L x 31"W x 1/8" thick and is made of CARB certifed MDF with a glossy white laminate play top. The billiards side of the table top has a playfield of 60"L x 27"W x 3/8" thick and is also made of CARB certified MDF with green felt. The easy to use latch system allows you to easily change from pool to air hockey. The table tennis top is 69"L x 36"W x 0.5" thick and made of CARB certified MDF. Place the table tennis top on top of the biliards table top for easy conversion. Interlocking dowels connect the two halves of the table tennis topper together. The rubber pool table drop pockets and gum rubber cushions help make for much quieter play. The triple threat 3-IN-1 flip table also comes with all accessories need to play all 3 games and has convienent accessory storage buit in for easy organization. The dual protection packaging helps ensure that your product arrives safely and the 3.25" x 3.25" x 0.5" thick CARB certified MDF legs covered with a black laminate for stabilization and sturdiness at home.
Limited 90 Day Warranty
View the Owner's Manual
Features of Triple Threat Three-IN-One Flip Table
Made with CARB certified MDF
250lbs
Easy to use latch system allows for you to easily switch games
Convienent built in accessory storage
Includes accessories for all 3 games
Dual protection packaging
UL Approved
Last Updated: 02/02/2023 04:11 PM - ID:6666