Garden Umbrella - 7.5ft - Fiberglass Ribs
Aluminum Umbrella with Break Resistant Ribs by FiberBuilt®
Tired of having your umbrella become useless due to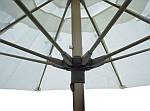 broken or bent ribs in windy conditions? This garden umbrella has BREAK RESISTANT fiberglass ribs that allow the ribs to flex in higher wind conditions. It has been tested to withstand winds up to 50mph. Fiberglass ribs are 4 times stronger and up to 30% lighter than traditional wood or metal ribs. We even offer a 3 YEAR WARRANTY on the fiberglass ribs.
Why haven't you seen fiberglass used in umbrellas before?
Good question! Fiberglass has always been the ideal way to build umbrellas, but, in the past, it was too expensive for the average buyer. New production methods bring down the price so everyone can now afford quality fiberglass ribbed umbrellas.
In wind tests conducted by the University of Miami, it was concluded that the fiberglass ribs bend & flex during winds that would normally break the ribs or the pole of an umbrella made with different materials.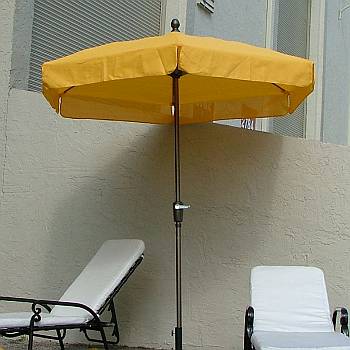 This durability, combined with an inherent resistance to rust and corrosion, results in umbrellas that last four to five times longer than traditional steel or wood ribbed umbrellas. Umbrellas with tilt option are not warranted in commercial applications.
The pole for this umbrella is available in white, champagne bronze, or bright aluminum.
The canopy is made of a Textiline Vinyl Coated Weave fabric and is available in eleven different color choices. This fabric is backed by a 2 year warranty.
Frame Finishes

Anodized
Aluminum

White


Champagne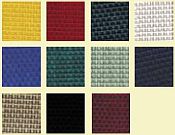 Textiline Canopy Colors
Click to Enlarge
This umbrella is Proudly Made in the USA!
Designed specifically with our residential customers in mind, push button tilts are also available with the champagne or white frames. The tilt option is not available with the aluminum frame. These tilt umbrellas are not warranted for commercial applications.
Quick Ship Umbrella -- Usually ships within 3 business days.