Tire Swing Beam Add On Kit - TRKIT110
Complete Plans - Instructions - All Hardware and Plastic Tire Swing & Swivel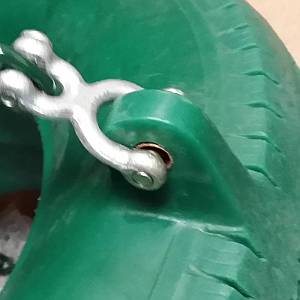 Tire Swing Chain Connection
Our Tire Swing Beam Add on kits is perfect to add a Tire Swing to your playset, wooden swing set or fort. You select the color of the coated chains and tire. Complete 3D Plans with detailed Instructions, all the hardware to make a tire swing beam, residential lubricated Ball Tire Swivel and a Heavy Duty Commercial grade Tire swing will add much fun and excitement for your children.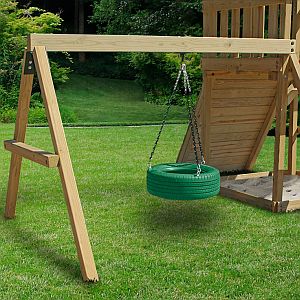 Tire Swing Chain Connection
A Tire Swing can accommodate two children comfortably and gives 360 degrees of tire swinging excitement or 360 degrees of dizzy spinning or Both! Adding a tire swing beam can actually get your kids to leave their technology, TV and Video games and go outside for some fresh air and exercise. It promotes better balance skills and provides enhanced muscular development.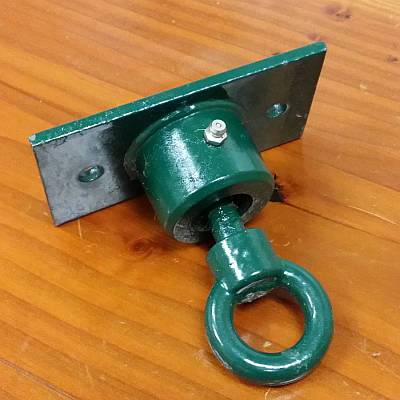 Tire Swing Ball Swivel
Tire Swing Beam Kit Includes:
Heavy-duty, 360 degree ball swivel with lubricating stem
Two 6-1/2" galvanized carriage bolts with washers and locknuts to mount swivel
Zinc Horseshoe connect chain with tire.
Three 5ft-1in plastisol coated chains with "S" hooks
Three 8mm spring clips mount the chains to the swivel
Tire Dimensions: 27 inch diameter, Tread width: 8 inches. Available in yellow, blue or green
*Tire included, wood is not Included*
Features of Swingsets-Tire Swing Beam Kit
Powder Coated Steel 360 degree swing path Swing Hanger
Lubricated Ball Swivel
Thick Rotational Molded Plastic Tire - Safer than chemicals found in a real tire
1 Year Warranty
Last Updated: 02/24/2023 12:48 AM - ID:297