Full Bucket Swing
Swingset Accessories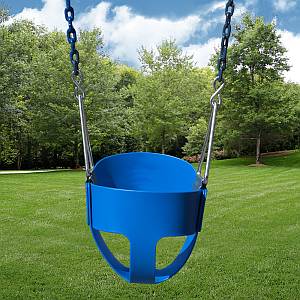 This Full Bucket Seat Swing comes with Plastisol coated Chains and 8mm spring clips for easy mounting to your wooden swing set. Durable Polymer Molded full bucket swing is recommended for small children ages 1-3 years Seats available in blue or green. Plastisol coated chains in yellow, blue, or green.
If you order different swings such as a Full Bucket, Half Bucket or Belt swing in the same color, the color may not match exactly
Full Bucket Swing Optional Chain Extensions
(2) Extra Lengths of chain in 12 inch increments
Each length is pre-attached with an S-Hook
Features of Swings - Full Bucket
At least 61" long Heavy Duty Chains -
30" with Plastisol Coating same color
(some assembly may be required)
1 Year Manufacturers Warranty
Features of Benefits:
Eliminates pinch points for little fingers
Minimizes twisting which minimizes possible entrapment area
Prevents the grip area of the chains from getting hot from the sun, no burnt fingers
The coating provides a better grip for little hands.
Looks great on your swings
Last Updated: 02/24/2023 12:51 AM - ID:317