Belt Swing Replacements for Swing Set, Playsets
Perfect Replacement Swing Seat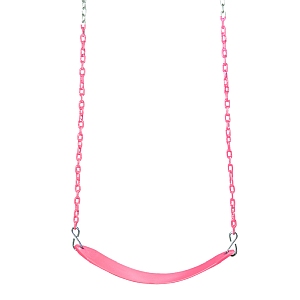 Our Swing Set Belt Swings with Plastisol Coated Chains, eliminate "Pinching" little fingers. You cannot find this quality of a playset Belt Swing at your local hardware store. Children of all ages love to swing and having their own swing set and quality belt swings in their own back yard gives them plenty of opportunity to swing whenever they feel like it.
Belt Swing Specifications
61" Heavy Duty Chains - 30" with Colored Plastisol Coating for Pinch Free Grip
Chain recommended limit is 600lbs, tested to 800lbs.
Polymer injected molded belt seat with durable molded inserts.
Belt seat recommended weight limit is 200lbs, tested to 300lbs and are 24" long and 5" wide, recommended for residential use only.
(2) Two 8mm spring clips for easy mounting. Recommended weight limit is 300lbs each. Tested to 500lbs each.
Benefits of Plastisol Coated Chains for Belt Swings
Eliminates pinch points for little fingers
Minimizes twisting which minimizes possible entrapment area
Prevents the grip area of the chains from getting hot from the sun, no burnt fingers
The coating provides a better grip for little hands.
Looks great on your swings
Easy to keep clean.
Full 1 Year Warranty
Optional Belt Swing Chain Extensions
(2) Extra Lengths of chain in 12 inch increments
Each length of chain comes with an S-Hook to attach to primary chain
Colors may vary from dyelot to dyelot and swing types (Belt, bucket, half-bucket, etc.)
Last Updated: 02/24/2023 12:51 AM - ID:312