Monkey Bar Rungs - Safety Handles
21in long Safety Handles for ladders or Monkey Bars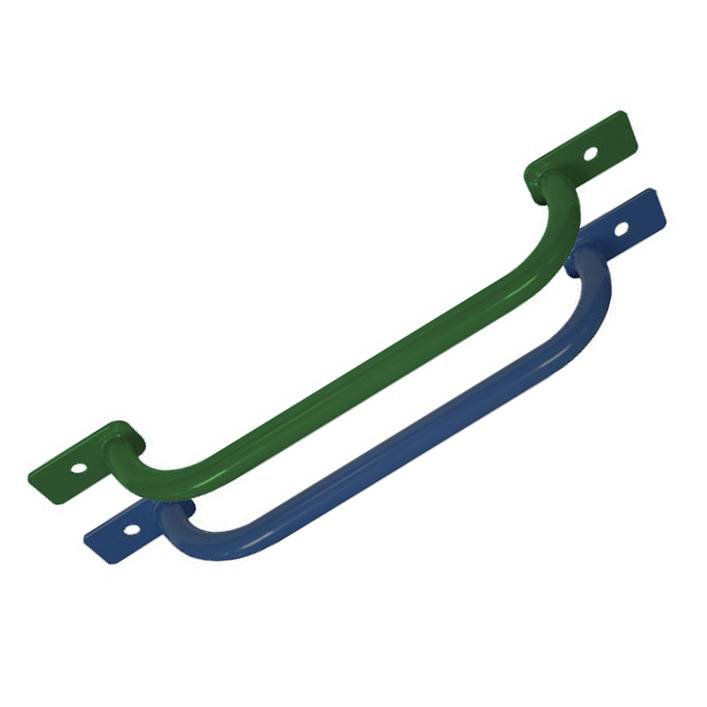 Bar Rung/Handle Colors
This safety handles are used in our deluxe Monkey Bar kit (See below). That are safer than just round ones that will rotate and your child will loose grip and fall. They can be used as ladder handle grips too.
Kids will love our Deluxe Monkey Bar Kit! These handles are constructed of 12 gauge steel powder coated green or blue to resist rust and corrosion. Each handle measures 21 inches in length and is 1-1/2 inches wide and inside dimension of 16-1/4 inches wide. Both ends screw into opposite sides of the Monkey Bar rails to give the overall set more strength. The mounting lag screws and Washers, not included, can be purchased locally at most hardware stores.
The price below is for single rung or handle. You can change the quantity to however many handles you need when you add this item to your cart
Features of Monkey Bar Handles
Overall length: 21"
Overall height: 4"
Max inside width: 17"
Bar diameter - 1"
Colors: powder-coated Blue or Green
3/8" diameter mounting hole
2-1/2" lag bolt with 3/8" washer recommended for mounting (not included)
Safety handles /Rungs sold individually
1 Year Warranty
Last Updated: 02/24/2023 12:50 AM - ID:7