Jumbo Binoculars - Add On for Wood Swing Set
Imaginative Playset / Swingset Accessory
Let your child see the world around them through these Jumbo Binoculars. These Binoculars are made of durable polyethylene with clear lenses at each end. The lenses keep wasps and other creatures from building their nests inside the Binoculars. All mounting hardware is included to easily install on your wooden swing set. The lens do not magnify and for imaginative play only.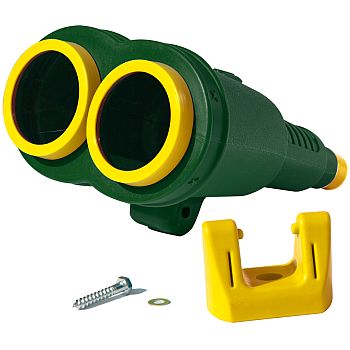 Binocular Easy Mount
2020 the colors are ONLY Blue and Yellow.
Features of Jumbo Binoculars
Dimensions: 11.5" X 11" X 6".
Available in Blue / Yellow Only
Mounting bracket is included
Easy to install on a wooden swing set
Clear lenses at each end - No magnification
Durable long lasting polyethylene design
Tilts Up / Down for viewing range
1 year warranty
Last Updated: 02/24/2023 12:49 AM - ID:2751