Glider Mounting System
for mounting a Back to Back Glider to a wooden swing beam
If you have a single swing beam, choose our 4 point glider mounting system. A 4 point glider mounting system allows the glider to "Glide" when going back and forth as was the intent for a back to back glider.
If your swing set has a single beam across the top, you will need to install a glider support. This will produce a four point mounting system. The flat piece with one hole goes on top of the beam and the side with two holes bolted flush against the beam. You will need to drill holes into the beam in order to install the bolts. The bolts are 2-1/4in x 3 in lag bolts and the top bolt is a 1-1/2in lag bolt.
The four 2.5 inch hangers will go through the four end holes. The nuts should be attached on the top of the assembly with the swing hangers at the bottom of the assembly. The spring clips should be attached to the swing hangers and then attached to the glider.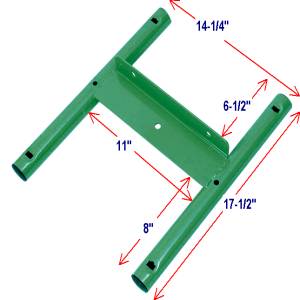 Bracket Dimensions
4x4 Mounting Hardware Includes:
Steel H - Frame Bracket
Four (4) - 2-inch, Nylon Bushing Swing Hangers
Four (4) Spring Clips
Two (2) 2-1/2 x 3 inch lag bolts and one (1) 4-1/2 inch bolt
Features of 4-point Glider Mounting System
Recommended Weight Limit is 1,800lbs
1 Year Warranty
Last Updated: 02/24/2023 12:50 AM - ID:579