Cedar Greenhouse Shed Kit - 8ft x 12ft
Sunhouse with Potting Bench
The Cedar Greenhouse makes an ideal art studio, workshop, garden greenhouse, or backyard getaway. The angle wall windows are made of a high performance thermoplastic that transmits up to 90% of visible light, while filtering out harmful ultraviolet light. This feature makes it an ideal greenhouse for growing and nurturing your plants. The functional and interchangeable dutch door and rear window will ensure you have plenty of fresh air while you putter away inside. The Cedar work benches are included with this extraordinary Sunhouse.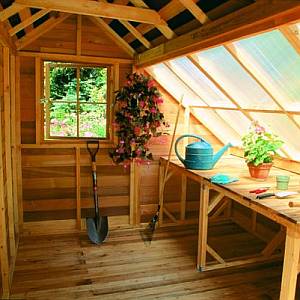 Click to Enlarge
The 8ft x 12ft Cedar Greenhouse is made from Western Red Cedar. This type of wood is renowned for its natural beauty and outstanding physical properties that make it one of the world's most unique woods. Red Cedar is free from pitch and is naturally decay and insect resistant. Cedar's low density gives it an insulation value superior to most other species. Light weight, easy to work, easy to finish, possessing outstanding dimensional stability, Western Red Cedar is a preferred wood for nearly all purposes where attractive appearance or resistance to weather is important. Western Red Cedar is one of the few wood species that are naturally at home in the outdoors. It is classified as a durable wood by the building codes across North America, which permits the use of its heartwood in exterior applications without preservative treatments.
Click the following link for information on Preparing the Foundation For Your Greenhouse.
Click the following link for the Greenhouse Instruction Manual
Features of Cedar Greenhouse Kit 8x12
Size: 8ft. X 12ft.
Height: 8ft. 6in. (Outside)
Height: 7ft. 8in. (Inside)
Height: 3ft. 9in. (Short Sidewall)
Height: 6ft 6in. (Tall Sidewall)
Inside Area: 96 square feet
Door: 2ft. 7in. Wide x 6ft. 1in. Tall
Window: 2ft. 0in. Wide x 2ft. 4in. High
Bench: 2ft 8in x 3ft 10in x 2ft 10in
Modular Greenhouse Kit
Easy Step by Step Instructions
Western Red Cedar Shingle Roof
2" x 3" whitewood framing lumber for walls and roof
2" x 4" floor joists with precut plywood panels
Wood Siding 1/2" x 6" Bevel Siding
Lexan polycarbonate long roof section
Interchangeable door and window panel for yard placement flexibility
Comes with thermoclear panels which are what commercial greenhouses use.
Includes work benches
Comes with dutch door and functional push out window.
Price: $92.75
Sale Price: $78.55
Last Updated: 02/02/2023 04:39 PM - ID:2494