Genevieve Wicker Folding Patio Table
Resin Wicker - Drop Leaf Table
The Genevieve Folding Patio Table is made from all weather resin wicker and is the perfect solution for those with limited outdoor space. The Terrace Mates Genevieve Wicker Table is a 42 inch half round folding gate leg table. The folding gate leg makes it a cinch to increase the space on your balcony, patio or porch when the table is not in use. Perfect size to accommodate a balcony, terrace, patio or deck area. Also perfect to increase seating area for restaurants, bistros, diners, and fast food establishments to take advantage of that previously unused wall space. When not in use, the Genevieve table folds down and stores closely against a wall or fence and takes up half the size it takes up when fully upright.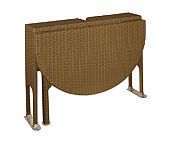 The unique design allows you to reclaim valuable deck and patio space when not in use. Need Seating? No Problem. The Genevieve Patio Table is ready to use in seconds. Just pull up the table and lock the gate leg into position and enjoy seating for two with extra room for salads, appetizers, wine bottles, you name it. Stackable Resin Wicker Chairs are also available and are sold in pairs only.
The Genevieve Wicker Patio Table is so versatile and portable, and the thoughtful design will make this table essential for any outdoor event where unused space can be converted into a fully useful sitting and dining area. It is ideal for sidewalk cafes where restaurateurs can create or expand their outdoor seating capacity.
The Genevieve table has an umbrella hole making it the perfect companion for one of the Off-The-Wall-Umbrellas™. These convenient products create a delightfully shaded outdoor living experience to enjoy from any view. When not in use, the umbrella and table can be folded neatly along the wall and out of the way to conserve space. Now, almost anyone can enjoy dining or just relaxing outdoors regardless of the amount of space available.
Color Choices
Features of Genevieve All Weather Wicker 42" Patio Table
Dimensions: Open - 31.5" L x 29.75" H x 42" W
Closed - 6.75" L x 29.75" H x 42" W
Available in Java or Coffee Color
Umbrella Hole fits "Off the Wall Umbrella"
Matching Stackable Wicker Arm Chairs available
Arm Chairs are sold in pairs only!
Ships Oversize
Price: $350.00
Sale Price: $285.95
Last Updated: 02/02/2023 04:31 PM - ID:3365