SunBriteTV 32in Outdoor LCD HDTV 3220HD
All Weather Outdoor Television
Now you can enjoy watching the big game on TV while enjoying the comfort of your own deck or patio. This 32 inch LCD Outdoor TV - HDTV compatible - features an all-weather enclosure that protects the components from rain and dirt. It comes with an anti-glare, scratch-resistant front panel that enhances contrast to aid in outdoor viewing. Even the cables and remote are designed to stay watertight.
Enjoy television like never before and almost anywhere you want. Great for those outdoor living areas which are more popular than ever. The super bright 32" LCD Screen, which is HD compatible, allows you to enjoy your favorite TV show, sporting event, newscast, or whatever you enjoy watching at any time of the day or night. Dual fan airflow system keeps your outdoor TV unit cool and dry in temperatures up to 122 degrees F. Internal thermostatically controlled heater protects your TV in temperatures as low as -24 degrees F. Innovative watertight design means you can enjoy watching TV in almost any setting, be it poolside, on the deck, patio, balcony, or wherever you want. Enhance your precious outdoor living area with one of the leading outdoor televisions on the market today. Optional wall mounts and deck planter poles are also weatherized and include stainless steel hardware.
Accessory Description



Non-Articulating Wall Mount
SB-WM32NA

Wall mount with tilt. Non-articulating.

Meets VESA standards.

Includes stainless steel hardware.

Wt: 5 lbs.



Articulating Wall Mount
SB-WM32

Single-arm articulating wall mount for 32" LCD TV.

Extends up to 11-7/8" from the wall

Meets VESA standards

Includes stainless steel hardware

Wt: 7lbs.

Ceiling mount with tilt.

Adjustable extension column provides 3"-9" above unit to ceiling in 1" increments and a 4" x 4" designer ceiling plate

Meets VESA standards

Includes stainless steel hardware

Wt: 7 lbs.

This powder-coated aluminum Deck/Planter Pole accommodates SB-WM32 Articulating Wall Mount. (Requires purchase of Articulating Wall Mount SB-WM32).

Dimensions are 2-1/2" W x 2-1/2" D x 62" H,

Welded mounting flange is 8" W x 8" D.

Includes stainless steel hardware.

Wt: 9 lbs.

Constructed with weatherproof 4-ply polypropylene UV protection fabric

Velcro straps for secure fit.

Wt: 1 lb.
View the full SunBriteTV Outdoor 3220HD Specifications
New for 2011, Manufacturers Warranty is now 2 Years. To view SunBriteTV Outdoor 2220HD Specifications Year Warranty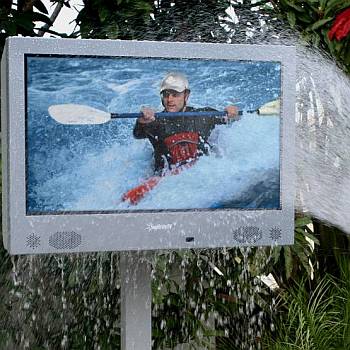 <">
Click to enlarge
Features of SunBriteTV 32 inch Outdoor LCD HDTV 3220HD
LCD Screen: 32 Inch diagonal TFT Acrive Matrix
HDTV Compatible
Resolution: 1366 x 768 WXGA
Brightness: 800 nits
Contrast: 1600:1
Operating Temperature: 10 degrees to 122 degrees F
Dimensions: 32" W x 22.07" H x 6.81" D (8.86" D w/ wall mount)
Weight: 37lbs
Mounting: Comes with Universal Water-Resistant Remote Control with Lithium Battery, & tabletop stand. Optional: Articulating wall mount and deck/planter pole available.
When purchasing the Deck Pole Mount, you will also receive the Articulating Wall Mount WM32
Warranty: One-Year, In-Factory, Parts & Labor
Features of Benefits:
Super-bright 800 nits screen (Compared to 250-500nits of indoor LCD Screens)
All-weather powder-coated aluminum enclosure protects the internal components from harsh outdoor elements.
Conformal coating protects the internal electronics from humidity-related corrosion damage.
A contrast-enhancing, anti-glare and scratch-resistant window protects the LCD screen from rain, dirt and the elements.
Environmental, all-weather, watertight enclosure protects internal components from rain, dirt, insects and scratches
Baffled and filtered, dual-fan airflow system keeps unit cool and dry in all environments
Innovative watertight cable entry system with pass-through design keeps cables dry and allows for easy hook-up
Conformal coating of protects the internal electronics from humidity-related corrosion damage


This item has been discontinued. We apologize for any inconvenience.
Last Updated: 02/02/2023 04:29 PM - ID:2538