Bamboo Area Rug
Indoor/Outdoor All Weather Rugs
If you're looking for something different to cover your floor, take a look at these Anji Mountain Bamboo Rugs. Made of 100% quality bamboo from the remote Anji Mountains in China, these rugs are considered one of the finest bamboo rugs available. Bamboo used by Anji Mountain is not harvested until it is 5 years old even though China allows harvesting after 4 years. The reason for this is that older bamboo is harder and more stable. As an indoor/outdoor rug, this is a durable and attractive area rug that comes in a variety of popular sizes. Anji Rugs are easy to clean, ecologically friendly, and provide a beautiful accent to any style of flooring in any area of the home.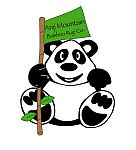 Manufactured in the Anji Mountains of China, the bamboo in these rugs is machine planed, sanded, then hand sanded once again to insure a high quality finish. All the bamboo that is used is harvested, processed and assembled in China. The bamboo is carbonized which means that water and oils have been removed naturally, and then it is kiln dried to prevent warping and cracking. These steps insure that the rugs will withstand the dry heat inside your home during the winter, or in an arid, desert-like climate. Each Anji Bamboo Rug has been created with a color-coordinated poly border that will last longer and be more stain resistant than a cotton border. Also, each border is micro-stitched and has mitered corners for an attractive finish and better wear. Every rug is backed by a 30 day warranty.
Anji Mountain Bamboo Rugs clean easily with a damp cloth or mop.
Each bamboo rug has been treated with a layer of UV protection to minimize fading, but just as with all natural wood, these rugs will fade in time when exposed to direct sunlight.
Each rug is packaged with an 8 ½" x 11" color photo label complete with individual UPC number, and is packaged in a reusable, zippered bag complete with a carry handle for easy transport and storage!
Bamboo rugs used outdoors should be stored inside when not in use to maximize the life of the rug.
After a rain, rugs should be stood up on end to drain excess moisture.
Rugs have a Ventilated Non-Slip Rug Pad Backing that is applied to the underside of the rug.
Last Updated: 02/02/2023 04:22 PM - ID:1382