Paver/Brick Lights Kit with Transformer & Cable
Kerr Lighting Paver Light Kits-8 Light Kit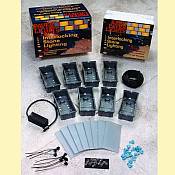 (Click to Enlarge Deck Light)
These 4x8 inch Paver lights are designed for easy installation as a replacement for any standard 4x8 inch brick paver. Now you can add beauty, safety & value to your home or business's outdoor landscape lighting needs.
Perfect for outdoor low voltage lighting needs for any brick deck, walkway or patio that can utilize any standard 4x8 brick in its construction or design.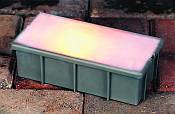 (Click to Enlarge Paver Light)
You can walk on these lights quite safely. The light fixture is designed to drain the water away.
Click here for Installation Instructions
Available in a 14 Light Kit as well.
8 Light Kit Includes:
eight (8) Paver Lights
eight (8) 4-watt bulbs
sixteen (16) solderless connectors
one (1) 100-watt transformer
50 feet of low voltage cable
Optional 2-Pack Paver Light Add-on Kit
two (2) Paver Lights
two (2) 4-watt bulbs
four (4) solderless connectors
Features of 8-Paver/Brick Lights Kit
4" x 8" deck light fixtures (bases & lenses)
4 watt bulbs for each fixture
Sockets for each bulb
Two connectors for each light
One 100 watt Low Voltage Transformer
Low Voltage Wire 50ft/8
2 Year Warranty - excludes bulbs
Actual size of the brick is 3-15/16W x 7-3/8L x 2-3/8H
Last Updated: 02/02/2023 04:19 PM - ID:703