Millennium Cobble Paver Lights Kit
Kerr Lighting Millennium Cobble Paver Lights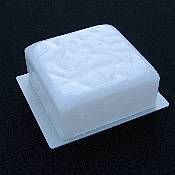 (Click to Enlarge Paver Light)
The Millennium Cobble Paver Lights are 5-7/8" x 5-7/8" Square shaped lights designed for use with the very popular 6 x 6 cobble pavers which are so readily available. The Millennium Paver Lights are designed for easy installation and are rugged and durable. They can be installed either during the paver installation or after your pavers have been installed. Cobble Paver Lights are most often used to enhance patios, walkways, pool decks, and driveways. Their rugged design withstands the load of a passenger car or light commercial vehicle and "turtle shell" lens with molded textured surface is easily removed when bulbs need to be replaced. Now you can easily add beauty, safety & value to your home or business's outdoor landscape lighting needs.
Perfect for outdoor low voltage lighting needs for any brick deck, walkway or patio that can utilize any standard square shaped light fixture in its construction or design.
You can walk on these lights quite safely. The light fixture is designed to drain the water away. Available in 8 light kits only!
Click here for Installation Instructions
Lens Covers are now available in (3) Colors. Standard White, Tan, and Grey. Choose your lens color below.
.
Features of Millennium Cobble Paver Lights
(8) eight Millennium Cobble Paver Lights
(8) eight 7 watt bulbs
Sockets for each bulb
Two solderless connectors for each light
One 100 watt Low Voltage Transformer
50ft of Low Voltage Cable
2 Year Warranty - excludes bulbs
Actual size of the Millennium Light fixtures are 5-7/8"W x 5-7/8"L x 2-3/8"H
Last Updated: 02/02/2023 04:19 PM - ID:3838