Deck Light Kit with Transformer & Cable
Kerr Lighting Deck Light Kits-14 Light Kit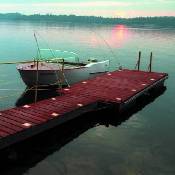 (Click to Enlarge Deck Light)
The Deck/Dock Outdoor Lights are designed for easy installation into wood decking on your deck around your pool or even on a boat dock. These lights are easily added during your deck installation or after. A small notch can be cut out of the Pre-existing deck or dock boards, and then the light is inserted and locked in place with hold-tight tabs. The wide lip supports the light and its smooth, rounded corners make the DECK LIGHT a safe, yet elegant addition to your outdoor living area. This Deck Light Kit is perfect for outdoor low voltage lighting needs for most wood deck, dock or steps.
Actual Light Dimensions: 4-3/4"L x 3-3/4"W x 2"H. 2 Year Warranty - excludes bulbs.
You can walk on these lights quite safely. The light fixture is designed to drain the water away.
Click here for Installation Instructions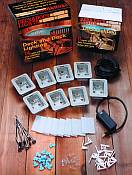 (Click to Enlarge Deck Light)
14 Light Kit Includes
14 Deck Lights
14 Four Watt Bulbs
solderless connectors
hold tight tabs
One 100 Watt Trasformer
100 feet of low voltage cable
Features of 14-Deck and Dock Light Kit
14 Low Voltage 4-Watt Deck & Dock Lights
(with hold-down brackets)
100 Foot Cable
All-Weather Connectors
Complete, Easy-to-Read Instructions
Actual Deminsions of Deck Light: 4 3/4 in. L x 3 3/4 in. H x 2 in. D
Last Updated: 02/02/2023 04:19 PM - ID:5458