Hammaka Hammock Chair
Hammock Chair
If your old jeans were a chair, they'd be a Hammaka. Even if you lack the space for a traditional hammock, you can still enjoy the comforts of a hammock with the Hammoaka Chair. This luxuriously comfortable hammock chair is designed for both indoor and outdoor use. Whether you hang it on your porch, out on your deck or patio, in your study, or from the old oak tree, you will find that this chair redefines the concept of relaxation.
The Hammaka Chair Hammock hangs easily from a single point. It is fully outfitted with an adustable footrest, armrests, an inflatable and adjustable pillow, a drink holder and a carry case. the chair material is made from 600 denier polyester with a UV inhibitor for long lasting durability and flexibilty. All seams are reinforced. It also includes all necessary hanging hardware. The Hammaka Chair is available in 6 great colors and wood or aluminum dowels.
Click Here to View Hammaka Hammock Chair Instruction Manual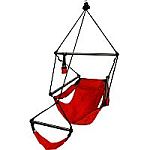 View Hammaka Fabric and Dowel Choices
Click image to View
Features of Hammock Chair Swing
Adjustable Footrest, armrests,cup holder, inflatable and adjustable headrest, and carry case
Weight limit capacity: Approx 350 lbs from secure attachment
Materials: UV inhibitive 600 denier polyester, birch hardwood or aluminum dowels, reinforced seams
Includes all hanging hardware
Two year warranty on all material and workmanship
ALL OF THE HAMMAKA HAMMOCK CHAIRS ARE CURRENTLY ON BACKORDER.


This item has been discontinued. We apologize for any inconvenience.
Last Updated: 02/02/2023 04:16 PM - ID:2882