Home
> SunBrella Fabric Hammocks
Fabric Hammocks - Double with Sunbrella Fabric
Handcrafted Fabric Hammocks
The Fabric Hammock you will find at BackyardCity.com are made with durable materials and quality craftsmanship. Our hammocks are guaranteed against manufacturer's defects. In addition to handcrafted hammocks, we also offer hammock swings (handcrafted woven and net), rope hammocks, hammock stands, hammock hanging kits, and hammock accessories.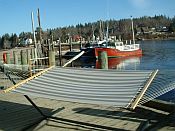 Click to Enlarge
The Fabric Hammocks we offer are made with Sunbrella fabric. Sunbrella® fabrics are tough enough to withstand the extremes of Mother Nature, are fade and stain resistant, and will remain beautiful year after year. Sunbrella® is one of the world's leading manufacturers of furniture grade fabric. Sunbrella® is water & weather resistant fabric used to make patio furniture, window awnings, boat covers, boat awnings, and patio umbrellas as well as hammocks. All of these superb hammocks feature a 5 Year Warranty against manufacturer defects and come in your choice of Green/White Stripes or Taupe/Beige Stripes.
The Double Sunbrella Fabric Hammock is 4-1/2ft wide and 6-1/2ft long. The spreader bars are made of Canadian Hard Maple, and the hanging space required for this hammock is 13 to 14ft. The weight capacity when hung properly is 350 lbs. Optional Hammock Pillows made with Sunbrella fabric are available in Hunter Green or Beige.
Optional Hammock Accessories
Hammock Hanging Kit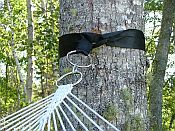 (Click to Enlarge)
Tree friendly -- will not damage the trees
Attaches hammock to any size tree, post, etc.
Contains 2 nylon straps, each 10' long, & 2 quick links
Easy to use
Available in black
Hammock Pillow


(Click to Enlarge)
Fabric: Sunbrella exterior, foam filled
Size: 12" wide x 30" long
Color: hunter green or beige
Features of SunBrella Fabric Hammocks
Size: 4-1/2' wide x 6-1/2' long
Hanging space: 13' x 14'
Weight capacity: 350 lbs
Spreader bars: Canadian hard maple
Hanging Harness: Olefin Synthetic Rope
Colors: White/Green Stripe or Taupe/Beige Stripe
5 Year Warranty


This item has been sold out, and we do not plan to restock it. We apologize for any inconvenience.
Last Updated: 02/02/2023 04:15 PM - ID:1303