Economy Net Hammock Swing
Hammock Swing Chairs
The Hammock Swings offered by BackyardCity.com are made with durable materials and quality craftsmanship. Our hammocks are guaranteed against manufacturer's defects. In addition to handcrafted hammock swings, we also offer rope hammocks, fabric hammocks, hammock stands, hammock hanging kits, and hammock accessories.
The Economy Net Hammock Swings are made with the same attention to detail and craftsmanship as the more expensive olefin and nylon swings. Our net swings are durable, yet they cost less. These hammock swings are made from 100% flat weave polyester sports mesh. They have been treated for rot, mildew, and ultra violet protection, and the hanging harness is hand made using olefin rope.
The 44" spreader bars are made of Canadian Hard Maple, and the weight capacity when hung properly is 275 lbs. A Hammock Swing is the answer for people who do not have the space for a full-size hammock. Perfect for verandas, porches, and gazebos, all you need to hang the hammock swing is a strong beam or tree limb. Net hammock swings are available in hunter green only.
Optional Swing Accessory
Swing Hanging Kit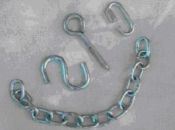 (Click to Enlarge)
Attaches swing to a strong tree limb or beam
Features of Net Hammock Swing
Weight capacity: 275 lbs
Spreader bar: 44" Canadian hard maple
Colors: White or Hunter Green
5 Year Warranty


This item has been sold out, and we do not plan to restock it. We apologize for any inconvenience.
Last Updated: 02/02/2023 04:15 PM - ID:1314