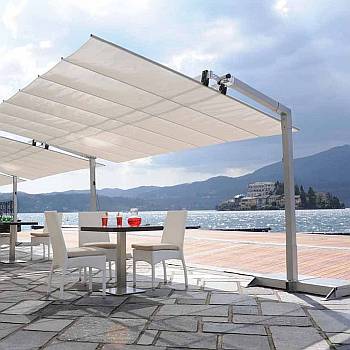 Freestanding Retractable Awnings - FLEXY
Outdoor Awnings with Tilting Canopies
Beat the heat and keep your cool this summer with a unique Freestanding Awning. These awnings are an excellent choice for shading large areas, and, unlike traditional awnings which must be attached to the house, Freestanding Awnings can be placed in any area of the yard.
The Flexy Freestanding Dual-Post Awning has a modern, contemporary, design, well engineered and is beautifully functional. This is why many businesses choose this awning over others or umbrellas as their solution to the sun and heat. The Flexy Awning eliminates the need for obstructive umbrellas and the clean silhouette creates a pleasant outdoor space. No matter the time of day, your customers will be protected from the sun with the Flexy's tilt forward or backward feature.
The Freestanding Awning provides what a patio or market umbrella cannot -- lots of shade! Freestanding Awnings provide more shade than most patio and market umbrellas, and these awnings tilt from front to back to provide increased coverage during the early mornings and late afternoons. You have your choice or 16 brilliant Sunbrella colors, and the canopy will retract with an easy to use patented drawstring. There are currently 2 sizes of awnings available: the "Miami" model which measures 8ft x 12ft, and the "California" model which measures 10ft x 15ft.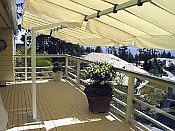 Retractible Horizontal Freestanding Awnings
The frames on the Horizontal Awnings are made of powder coated aluminum that will not rust. The Miami awning frames are available in White, Taupe, or Graphite powder coated finishes, and the California awning frames are available in White or Graphite. The crossbar supports are made of anodized aluminum, and all other hardware is stainless steel. These awnings are premium quality from FIM manufacturing and are built to last.
Freestanding Awnings ship standard with the Ground Insert Base/GIB or the Deck Mounting Plates DMT16. The Freestanding Base FSB/T are available at an additional cost. The Freestanding Base requires a minimum of six (6) 20" patio paver stones / 300lbs per post/side -- Paver stones are NOT included.
Price: $6,399.99
Sale Price: $5,249.00
Price: $6,489.95
Sale Price: $5,628.00
Last Updated: 02/02/2023 04:09 PM - ID:2120