Paraflex Single Arm Wall Mounted Umbrella - Classic Style
Stylish Outdoor Aluminum Offset Umbrella R27 (9ft Round), R22 (7.5ft Round) or S19 (6ft Square)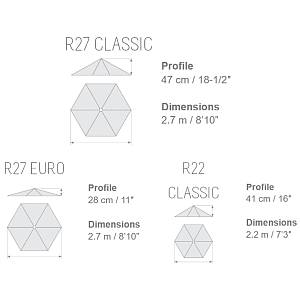 WallFlex Umbrella Sizes
Paraflex WallFlex is a wall Mounted Umbrella with a choice of their Classic canopy sizes of 9ft Hexagon Classic and Euro (flat) and 7.5ft Hexagon. The canopy can be made of Texsilk Olefin or the enduring Sumbrella solution dyed acrylic canvas that resists dirt, oil, mildew and is resistant to fading. Both are water resistant and hold their shape well. Available in Standard Sunbrella or Texsilk colors. Canopies are easily removable and washable. Each canopy has a zipper so the umbrella can be closed while still attached to the holding arm. Each umbrella is individually adjustable on its own holder arm. This vented umbrella canopy is designed to handle light to moderate winds when in the open position; however, if it is too windy to be outside enjoying the day under your umbrella, lower the canopy and retract the rotating arm/holder back to the wall or pole.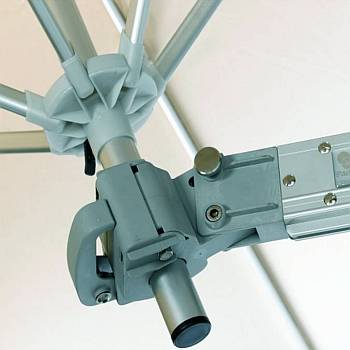 Arm Clamp Tilt
ParaFlex is known world wide for a robust yet stylish design and ease of operation of their Umbrellas. The lightweight Wallflex Umbrella uses anodized aluminum masts, stainless steel fittings and marine grade components along with an elegant European fabric for a sporty look that can be used at home or in a professional setting. Each umbrella's winding mechanism is similar to those used on yachts in combination with marine grade stainless steel components and has a glass filled, UV resistant resin finish. Anodized aluminum is the strongest and most stylish finish used in aluminum products as the electro-chemical process forms a stable and thick, protective coating that bonds with the metal and is sealed to create an aesthetically superior umbrella mast and arms. The bonding process means that this finish will not peel or chip and is resistant to corrosion and abrasion so it is great for any strong UV or coastal environment. This stylish finish is also low maintenance as it cleans up with water and any mild detergent, and comes in a silver finish.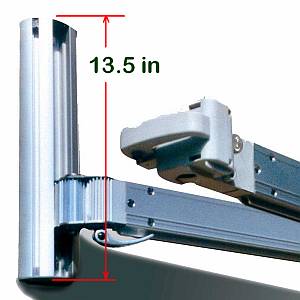 WallFlex Mount Size
The Paraflex wall mount bracket can be mounted to any vertical, solid surface allowing each WallFlex Umbrella to create a maximum shade space without the bstruction of a pole. Bolts and anchor hardware are not included. For multiple wall mounts, each extra wall mount requires its own hinge that remains in the mounting track permanently. Additional 13-1/2in wall mount tracks and hinges can be purchased so you can locate your umbrella in more than one location.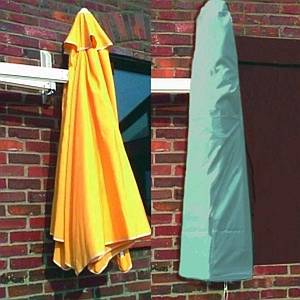 Optional Storage Cover
This umbrella comes with a 3 Year Limited Warranty (1 Year on Texsilk Canopies). To view the warranty information, please click here Paraflex Warranty Information.
You can check out the WallFlex Installation Instructions to see how easy it is to install your WallFlex Wall Mounted Umbrella.
R22 Classic Size Discontinued July 2019 by Mfg and no longer available
Features of Paraflex Single Wall Mounted Umbrella
Sunbrella Acrylic or Texsilk Olefin Canopies with Zipper
3 Umbrella Sizes: 9ft Hexagon (8ft-10in) Classic or the low profile Euro and 7.5ft Hexagon (7ft-3in)
6ft rotating/Tilt umbrella arm
Frame finishes in silver
Marine grade components and stainless steel fittings
Anodized aluminum masts
Attaches to any solid wall support
Last Updated: 05/12/2021 08:32 PM - ID:2608