(Click to Enlarge)
Market Umbrella 9ft with Tilt in Bamboo or Wicker Finish
Aluminum Umbrella with Bamboo or Wicker Styled Pole with Deluxe Auto-Tilt by Galtech
Looking for something different? With this umbrella you have two unique pole options to give your umbrella a look like no other. Go tropical with our new bamboo finish deluxe auto tilt aluminum pole umbrella or the woven wicker look. The bamboo pole is available in a hand painted, natural or java finish with realistic looking bamboo knots molded into the pole. It really captures the look and feel of paradise on a tropical island. The wicker pole is available in a two tone hand painted, Desert Bronze finish with the weave pattern stamped into the aluminum. The above image shows our faux thatch canopy but you can choose a more traditional look with a complementing Sunbrella fabric. This umbrella will liven up any backyard.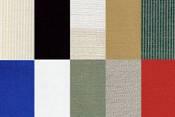 More Umbrella Canopy Colors
Click image to View
Features:
9 Foot Deluxe Auto Tilt Market Umbrella
1-1/2" Diameter Aluminum Pole
Available with a Hand Painted pole to resemble Bamboo or a Woven Wicker style finish.
96" Tall
8 Ribs
Quick and easy to use crank lift system (stainless steel cable, metal housing)
Deluxe Auto Tilt for smooth tilting operation
Solid Resin Hubs
Sturdy threaded coupling to help secure the upper & lower pole pieces together
Optional SunBrella Acrylic Canopies available for an extra fee
Base sold separately
Recommended for Residential Use Only!
2 Year Limited Manufacturers Warranty on umbrella frame.
3 Year Warranty on SunBrella Fabric Canopies.
1 Year on Faux Thatched Canopy
Java Thatched Canopy Color Pictured Above
Optional Bar Height Pole: This is an additional bottom section of the umbrella's pole. It is 6" taller than the normal pole, which raises the umbrella 6" taller to accommodate a table or a bar that is of standard bar height. Bar height pole will have the same color/finish as bamboo, but will NOT have the "Knots" as the upper part of the pole. (Pole needs to slide thru the opening in the bar height table)
Last Updated: 05/29/2018 11:18 AM - ID:2774