(Small Sectional Slide)
Sectional Scoop Slide - Residential
Straight Scoop Slide for longer slide needs. Heavy Duty
This Sectional scoop slide is one Heavy Duty straight slide. New design released January 2018, is made with strong rotationally molded polyethylene sections that can be shipped UPS. The slide is about 25in wide. Typical slide has 1 entrance and one exit section and inserting one or more middle sections, it can easily be configured to make slide lengths of about 8ft, 10ft, 12ft, 14ft, 16ft, 18ft, or longer.
The approximate length of a typical straight slide is usually about double the deck height to which it will be attached. EX: 7ft deck needs about a 14ft long slide. The Sectional Slide lengths are a bit smaller for a fun slide experience. They have longer exit slow down length for safety.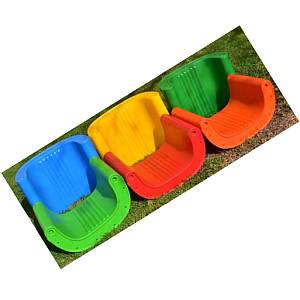 Sectional Scoop Slide Colors
Use of bracing (not included) may be needed for slide lengths greater than 10ft long.
This new design has strong thicker higher walls. This makes it safer as it is much more resistant for your child to tip-over the sides. The scoop design gives a higher degree of safety than those typical straight slides sold by big box stores.
Who wants to see the slide buckle when a couple of 8+ year old kids (~80 lbs each) slide down at the same time? It has a 300lbs recommended weight limit unlike the typical 150lbs limit of other straight slides.
Deck Height
Slide Length*
Projection**
Our Price
3 feet
80 inches
68 inches
$375.00
4 feet
96.25 inches
81 inches
$450.00
5 feet
128.75 inches
111 inches
$600.00
6 feet
145 inches
123 inches
$675.00
7 feet
177.5 inches
154 inches
$825.00
8 feet
193.75 inches
164 inches
$900.00
9 feet
226.25 inches
194 inches
$1050.00
10 feet
242.25 inches
208 inches
$1125.00
* Approximate length of slide from Start to End
** Approximate horizontal distance the slide will project from where it starts.
We recommend a minimum 3ft unencumbered safe zone all around the slide exit.
Due to the thermo dynamics and lower heat transfer properties of plastics, plastic slides are preferred over metal slides for play equipment. Although plastic slides may become as hot as metal, they insulate better and do not transfer the heat as quickly. Because of these properties, the Consumer Product Safety Commission (CPSC) recommends plastic slides and plastic surfaces over bare metal.
Regardless of lower heat transfer properties, plastic play equipment can still become hot enough in extreme temperatures and direct sunlight to cause burns. Plastic slides are safe, tried and true, but as is the case with all playground equipment, parents and supervisors must monitor the children in their care, make certain that the equipment is appropriate for their age, and always check playground surfaces for excessive heat before allowing children to play. Reduce the heat by simply using a hose and cool water on the slide.
These New Sectional Scoop Slides are shipping NOW!!.
Features:
NEW Design for 2018 virtually eliminates visible seam.
Double walled rotational molded polyethylene.
300 lbs recommended weight limit up to 9ft deck heights
Easy to follow instructions
Assembles in about 15 to 45 minutes
NO WOOD BRACING REQUIRED
All hardware included
Colors: Blue, Green, Red, Yellow, Lime and Orange. (Lime and Orange are new and have limited availablity and stock is fluid and may not be available to ship immediately)
Last Updated: 06/11/2018 10:39 AM - ID:320