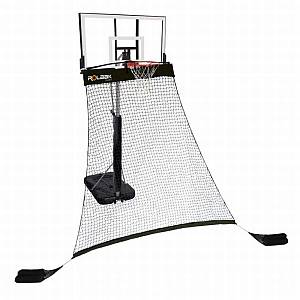 Rolbak Protective Nets
Basketball Rebound and Guard Nets
Rolbak Nets help to protect your yard and maximize your training time. The Rebound Nets will help maximize your playing and practice time while minimizing time used chasing the ball. Keep the basketball from damaging plants, windows, and other property close to the hoop with the high tensile net that catches missed shots and safely rolls the ball back to the player. Choose from three different styles to fit your system and playing style.
The Rolbak Guard Nets will help keep sports balls off of neighboring property, flowerbeds, slopes, or other unwelcome sites. If you're tired of chasing the basketball as it rolls downhill or into territory where it may cause damage or frustration, simply stake the backstop net into the ground for an effective barrier that keeps the ball on the court and your mind on the game. Nets can be used at the end or sides of driveways or wherever you need a barrier. Protect your children by keeping their game balls off the road. The guard nets are available in three different sizes and can be attached together for extended coverage.
Made from UV protected materials, the Rolbak Guard Net will contain your sports balls and safeguard your kids for years to come. Easy to install, move, and extend, this is the most convenient protective fencing around!
Last Updated: 02/02/2023 04:18 PM - ID:6071