Palm Series Outdoor Dining Height Fire Pit
Outdoor Patio Fire Pit Table
The Palm Series Outdoor Dining Height Fire Pit has a base constructed of high quality cast resin. Every base features a beautifully sculpted design of palm trees, water and mountains creating a rustic but elegant tropical paradise. Choose between realistic ceramic fire logs or burning glass (in white, black or copper) to coordinate your with your outdoor haven. The Palm Series fire pit can also be used with natural gas by utilizing a natural gas orifice (included free for a limited time) for conversion.
Each firepit stands 29-1/4" tall with the granite top and 28" without the granite, while the base itself has a top dimension of 30" without the granite and 29" at the bottom. Granite tops come in your choice of Sunset Gold, Pebble or Sea Green and measure 48" in diameter. Another option allows you to convert the firepit to a cooler (ice bucket) - please note that conversion to the ice bucket requires an adapter ring which is also sold separtely. A 20-pound propane tank can be stored inside the fire pit completely out of view (propane tank not included).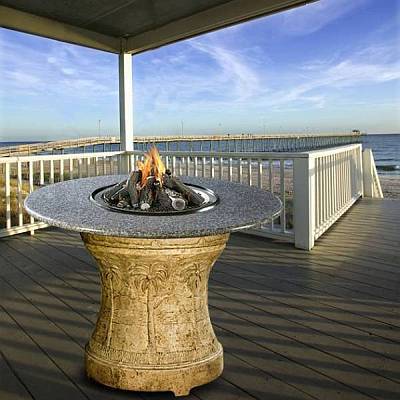 Cooler Option
Either the fire logs or the burning glass will enhance the glowing, dancing flames of your new outdoor, decorative fire pit. You'll love the convenience of a fire anytime you want without the mess and hassle of firewood. The Palm Series Patio Fire Pit has been handcrafted from premium quality materials selected for their ability to withstand the wear and tear of changing temperature, humidity and the outdoor elements. A craftsman's eye for design and function give you a beautiful and durable fire pit that will make the most of your patio, backyard, deck or outdoor living area. A standard 20 lb natural gas (LP) tank fits inside the base (tank is not included).

Fire Pit Operating and Instruction Manual


Features of Palm Series Dining Height Fire Pit
Ceramic Fire Logs or Burning Glass
Height with Granite is 29-1/4"
Total Weight approximately 265 lbs.
Beige Cast Resin Base
40,000 BTUs
Liquid Propane or Natural Gas
Ice Bucket option requires an Adapter Ring


This item has been discontinued. We apologize for any inconvenience.
Last Updated: 02/02/2023 04:17 PM - ID:4731