Outdoor Misting Fan - Cool Draft Blue
Outdoor Misting System
The Cool U Misting Fan is a great way to keep your cool outside this summer. It is designed for users who are looking for ease of use combined with industrial strength. With its "nozzle-less misting hub technology", this fan is guaranteed not to clog, requires no filtration system or nozzles and comes with an adjustable dial for controlling the misting volume. This technology uses centrifugal force to atomize the water. These fans are easily dep[loyed with a self-contained water resevoir and locking wheels. One fan will cover up to 1,000+ square feet, has a 90 degree oscillating fan head and a low-noise, rustproof designed fan motor.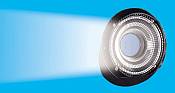 Misting Fan Closeup
Each misting fan is rated at 120V 60 hz 330W and comes with a one year limited warranty. Weight is about 100 pounds. The fan runs at 7500 cfm and has an adjustable pitch with a fan chain to control the three speeds. Every water resevoir holds 5.25 gallons of water and has a drain valve.
Features of Cool Draft Blue Misting Fan
Dimensions: 25" wide, 76.5" height, 22" deep
Portable installation includes integrated water reservoir
Cools 1,000+ sq. ft. (95 sq. m.) and can run up to 4 hours
3-speed axial fan with oscillating fan head
Adjustable height
Automatic shut-off when water tank is empty
Locking wheels
Black with blue accents
Rustproof design
Nozzle-less misting hub technology
Weight is 105 pounds


This item has been discontinued. We apologize for any inconvenience.
Last Updated: 02/02/2023 04:17 PM - ID:3406