Outdoor Misting Fan - Cool U
Outdoor Misting System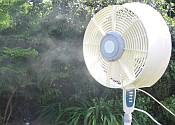 Misting Fan Closeup
The
Cool U Misting Fan
is a great way to keep your cool outside this summer. Easy to set up, this fan is also easy to use and is available at a low price. These fans are portable and provide heat stress protection to enhance your comfort and performance whether you are at work or relaxing. One fan will cover up to 500 square feet, has an oscillating fan head and a water repellant fan motor. All you need is a screwdriver and you'll be cool in no time.
Each misting fan comes with a ground fault circuit interrupter (GFCI) built into the plug of the power supply cord. This device provides additional protection from the risk of electric shock. The three speed axial fan is rated at 120VAC 60 hz 54W (Max 40,000 BTU/H cooling with misting) and comes with a one year limited warranty. Weight is 30 pounds.
Features of Cool U Misting Fan
Dimensions: 16" wide, 58" height
Installation requires power and water sources
Cools 500 sq. ft. (47 sq. m.)
3-speed axial fan with oscillating fan head
Adjustable height
Comes with 4 additional nozzles
6 foot hose connection
White with blue accents
UV and rust resistant
UL rated with solid state construction
Features of Benefits:
Flea Markets
Backyards
Pools, Patios and Decks
Light Industry
Outdoor Events
Sporting Events


This item has been sold out, and we do not plan to restock it. We apologize for any inconvenience.
Last Updated: 02/02/2023 04:17 PM - ID:2509