CADAC Safari Chef Portable Gas Grill
Portable Mini BBQ, Reversible Grill, Lid/Wok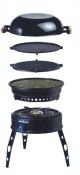 (Click for Larger View)
The Cadac Safari Chef Portable Gas Grill is the most versatile tailgating grill we have ever seen. You can cook four different ways with this unique grill. Barbecue burgers and kebobs with the conventional grated surface. Grill steaks and chicken on the grill plate, and they will come out with blackened lines as if professionally done. Flip over the grill plate and use the skillet on the other side to fry eggs and bacon for those early starts. Finally, you can put a pot of water right over the flame to boil water for coffee and hot chocolate.
For use only with a disposable 1 lb propane cylinder containing HD-5 propane LP gas marked in accordance with the specifications for LP gas cylinders of the U.S. Department of Transportation (DOT 39) or Transport Canada CAN/CSA 339.


(Click to Enlarge)
Carry Case is about 12in tall
(not including handles),
13in wide and 8in deep
Features of Safari Chef Portable Gas Grill
Five interchangeable cooking surfaces
Camping stove for boiling water and brewing coffee
Mini BBQ ideal for fat-free barbecuing of chops, fish or vegetables
Functions like roasting oven when used with lid/wok.
Non-stick reversible grill ideal for grilling meat, chicken, breakfasts, pancakes, or vegetables
Wok/lid ideal for stir-fry, sauces, rice, pasta, and other accompaniments
Foldaway legs
Comes in convenient carry bag for portability
Weighs less than 9 lbs.
Wok Capacity : 3 liters or 102 fluid ounces
Ribbed Grill : 78 square inches
Flat Grill : 78 square inches
BBQ : 97 square inches
Burner: 7,300 BTUs


This item has been discontinued. We apologize for any inconvenience.
Last Updated: 02/02/2023 04:14 PM - ID:105